Watch Alison Brie Talk About Peeing All Over Her Vintage Mad Men Undergarments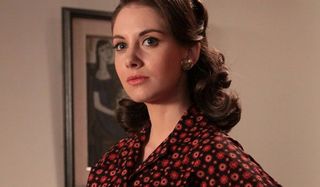 Alison Brie has filmed a ton of movies and TV shows at this point, but only one of those roles put her into vintage undergarments. That gig was Mad Men, the AMC series set primarily in the 1960s. Obviously, Brie was in vintage garments for most of her time on set, but early on she didn't know all of the finer points of wearing the odd underclothing. Once, this even led her to pee all over herself. Watch her recount the vivid story on Late Night with Seth Meyers, below. (Heads up, it's a little graphic, but not too wild.)
Here's the basic gist of the story, although it's quite a bit funnier when Brie tells it. A girdle is a set of undergarments that were the precursor to Spanx back in the day, meant to slim a woman's waistline and make her look totally fly. Sort of like this:
When Alison Bree first started wearing the complex undergarments for Mad Men, she didn't exactly realize the clothing was supposed to replace the underwear she normally wore. So, she decided to wear both. This might be a little uncomfortable, but it doesn't seem too bad, right? Wrong.
One day on set, the actress realized she had to pee while already in full costume. This wouldn't have been a huge disaster because a girdle can be shifted to accommodate ladies in the restroom. However, a girdle plus modern underwear is a totally different story. Apparently, when she tried to use the restroom, it backfired and Alison Brie told Seth Meyers she ended up peeing all over her undergarments… and then she shot the scene while wet. Classic.
You'd expect period clothing to have a different feel and weight than the modern-day costumes we choose to wear today. But since I've never personally been stuffed into a girdle, I wouldn't even know this was a thing if Alison Brie hadn't so brazenly brought it up on Late Night with Seth Meyers. I appreciate her narrative gusto, however, as I'm not sure I would have the balls to tell this story if it had happened to me. (Fingers crossed it never does.)
Luckily, after a season and a half of underwear drama, Alison Brie figured it out and kept on crushing on the AMC drama for a few seasons to come.
If you haven't been watching Late Night with Seth Meyers, the host has been on a roll lately with interesting interviews, but also with NBC. A month ago, the network announced that it had signed on with Seth Meyers for a slew of additional seasons, meaning we'll get weird on set stories like these through 2021.
You can catch new episodes of Late Night with Seth Meyers on weeknights at 12:35 p.m. ET.
Your Daily Blend of Entertainment News
Reality TV fan with a pinch of Disney fairy dust thrown in. Theme park junkie. If you've created a rom-com I've probably watched it.