Watch Dwayne Johnson Figure Out His Porn Name In These SNL Promos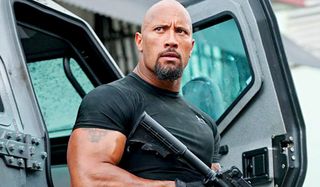 A certified A-list star in his own right, Dwayne "The Rock" Johnson will be hosting Saturday Night Live this week for the fourth time, representing the large ensemble cast of Furious 7. Joined by cast member Bobby Moynihan for the show's repertory lead-up promos, Johnson fields the all-too critical question that vexes modern civilization regarding one's own hypothetical porn star nom de guerre. It's one of a handful of hilarious tidbits that require your viewing.
In the video, the two men utilize the conventionally acknowledged system for creating porn names of taking the name of your first pet and combining it with a surname from the street on which you grew up. Johnson eventually divulges the answer, "Dusty Summit." Bobby Moynihan's funnier answer to the same question with "Dwayne 'The Rock' Johnson" may have been humorous, but there's also a bit of poeticism to that answer. Back when Johnson first stepped into the squared circle as a professional wrestler, well before his days as "The Rock," he stormed the territory of Memphis, TN as "Flex Kavana." No, that is not a joke. That was his name and it beats any porn star pseudonym that anyone could possibly conceive. (Although "The Tooth Fairy" also has a bit of ring to it.)
While the lead-up to Fast 7 has become emotionally charged as the film stands as the swan song of the late Paul Walker, it's also an adrenaline-infused, over-the-top injection of a hybrid cocktail of adrenaline and testosterone that lends itself well to the levity of SNL. Johnson's quick utilization of the old "seven ate nine" joke with the film's title as setup is all the proof you need of that. (Yes, it's okay to laugh…kind of.) We also get to see him briefly break back into his pro-wrestling persona as he lays the smack down on a lack of portfolio diversity, boasting about rising mutual funds. Plus, Johnson caps it all off with an obligatory nod to his G.I. Joe film franchise with a lesson in something other than dire warnings about running with scissors and the perils of petting strange dogs.
Unfortunately for fans of his former profession of wrestling, "The Rock" doesn't have an opponent lined up for their industry's grand event, Wrestlemania this Sunday evening in Santa Clara, CA. However, the odds seem likely that he could catch a quick flight after SNL has aired to head on over to Levi's Stadium and find some roody-poo candy-ass on whom to drop "The People's Elbow" to the delight of 70,000 fans and the millions… and millions watching at home.
Johnson has some cool film projects lined up like super-seismic disaster flick, San Andreas on May 29 and in the far future with his villainous turn as Black Adam in Shazam! as well as more Journey sequels. In the meantime, you can catch him on SNL this Saturday at 11:30 on NBC or in Furious 7, which drifts into theaters at obnoxiously roaring speeds on April 3.
Your Daily Blend of Entertainment News