Watch Emilia Clarke Explain Why A Violent Game Of Thrones Sex Scene Was So Funny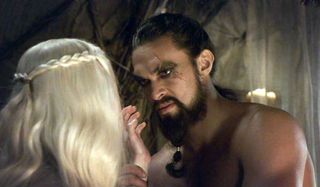 Stopping by BBC's The Graham Norton Show star of the upcoming Terminator: Genysis film as well as the Mother of Dragons, Emilia Clarke shared some interesting tidbits about her experience on set of HBO's hit series Game of Thrones. Take a look:
The conversation turned from those that will be missed from the Season 5 Finale, to those who have been missed from even earlier deaths, specifically Khal Drogo. Clarke laughed her way through the segment of The Graham Norton Show, explaining one of most violent rape scenes between her character and Khal Drogo. And why was it so funny? Well from the sound of it, Jason Momoa is quite the goober. The actor portrayed the intensity of Khal Drogo incredibly well on screen, but he also knew how to have fun on set. For that particular scene, Momoa decided to switch out his 'modest sock' for a fluffy, pink number. And if that wasn't enough of an eye-opener, from Clarke's reaction, it seems as if Momoa is, how to we say this cleanly, uh, well endowed…
While it's no surprise the actors try to keep scenes such as this one light as to diffuse any awkwardness, it is surprising that Clarke was able to hold her composure so well during the scene. Just imagining the massive and quite terrifying Khal Drogo walking around with a pink fluffy sock covering his dong. Well, I'm already giggling. But Clarke was able to stay in character, building off of the funny shock, into a more frightened shock.
We're also left wondering what kind of antics Jason Momoa will be up to onset for Aquaman. We can't imagine the DC comics flick asking Momoa to get down and dirty in the same ways as Khal Drogo, but hey, maybe there will be some sort of opportunity to put that 'big' pink fluffy sock back to good use. He certainly can't be upset about this story getting out. Clarke made it quite clear that she was impressed.
Clarke also touched upon the big Game of Thrones finale which left us with a whole slew of favorite characters reaching their demise. It was unsettling, and unexpected, something that we've come to expect from the show, and from the sound of it, so has the cast. Clarke explained that no one knows they're gone until they read it in the script. So really, she was just as surprised as we were. We can expect to see Dany back in action in Season 6 of Game of Thrones most likely to premiere in April of 2016.
Your Daily Blend of Entertainment News
Your Daily Blend of Entertainment News
Thank you for signing up to CinemaBlend. You will receive a verification email shortly.
There was a problem. Please refresh the page and try again.