Watch Jimmy Fallon Play Beer Pong Against A Robot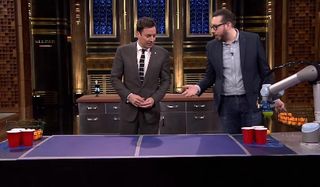 Jimmy Fallon loves to play games on The Tonight Show, but it's rare that we see him bro out. However, recently The Tonight Show Starring Jimmy Fallon pulled out a beer pong table to square off against a robot created by Empire Robotics for the sole purpose of crushing at beer pong. Check out the competitive game, below.
Basically, the goal of the robot is to crush at beer pong. Journalist Joshua Topolsky introduced the robot, mentioning that the robot will have a tight grip on any ball, but is particularly suited for beer pong balls. Once the ball is gripped, the robot tosses it high in the air, with an impressive level of accuracy, although I don't know what else you could expect from a robot. Here's what the ball-gripping machine looks like:
The robot, as you might guess, absolutely crushes at beer pong, but through a stroke of luck, Fallon manages to keep up early on. (The ball bounces off of the robot and into the cup.) Without that luck, I actually think Fallon is worse at beer pong than he is at "Box of Lies" and "Musical Impressions." As the robot shoots his second beer pong ball and it looks to be accurate, Fallon swats the ball away, effectively ending the game. Odds are that he would definitely have lost to the robot, but he lucked out that the segment needed to be wrapped up for time.
This isn't the first time Jimmy Fallon has taken a swing at a beer-oriented game. A couple of months ago, he tried to appeal to the college-aged Tonight Show audience with "Musical Beers," a take on Musical Chairs. Instead of finding a chair when the music stops, in that game, contestants dash to grab a solo cup. Somehow I don't see that one happening at frat parties.
Fallon's cultivated a reputation of being the "fun" late night host. He brings various celebrities onto his show and makes the experience less stressful and talk-oriented, thanks to a multitude of games and repeated sketches that are fun for the celebrities, as well as their audiences. From "Lip Flip" sketches to "Classroom Instruments" the late night show has carved out its own niche, and the fun times don't seem to be stopping anytime soon.
You can catch NBC's The Tonight Show Starring Jimmy Fallon on weeknights at 11:35 p.m. ET.
Reality TV fan with a pinch of Disney fairy dust thrown in. Theme park junkie. If you've created a rom-com I've probably watched it.
Your Daily Blend of Entertainment News
Thank you for signing up to CinemaBlend. You will receive a verification email shortly.
There was a problem. Please refresh the page and try again.