Watch Kevin James Shake It In This Totally Bizarre Pizza Commercial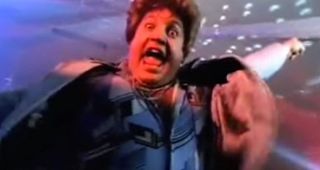 For actors, it's usually a long, uphill struggle before they ever come close to becoming famous. Most are just happy to have any work at all early on, and once they do find success, evidence of their past roles often provides fun times for the rest of us. Case in point, watch Kevin James shake it for all he's worth in this hilarious, and strange, commercial for a pizza joint.
Before he hit it big as the star of his own sitcom, The King of Queens, James logged countless miles on the stand up comedy circuit, had guest spots on shows like Everybody Loves Raymond (where his King character Doug Heffernan first came to prominence), and, as you see in this video, hawked Stromboli for a chain of Italian eateries called Mazzio's.
The short TV spot showcases James' willingness to go to great lengths in order to get laughs. We've seen this on full display in movies like Paul Blart: Mall Cop, Here Comes the Boom, and I Now Pronounce You Chuck and Larry, among others. But I don't know that you've ever seen it quite like this. You've got James discoing decked out in a leisure suit, flamenco dancing all over the floor, and even testing out his operatic pipes. It's enough to make me want to eat at this place if there was one in my general vicinity.
This feels like something you stumbled across watching an old VHS tape you found stashed in a worn cardboard box at your parent's house. Maybe you taped an episode of Melrose Place back in the day and this was one of the commercials. We came across this hidden gem thanks to a web video from The Tonight Show Starring Jimmy Fallon where celebrities recount their weirdest roles.
This definitely has to be one of James' most outlandish acting gigs, but it's not his only one. Hell, it's not even his only one for Mazzio's. In the Fallon video, he mentions playing a chicken herder, which is a sight to behold. Check it out for yourself below.
You can see James soon on the big screen as the President of the United States in Pixels, and reprising his mustachioed security guard role in Paul Blart: Mall Cop 2. Now if we could only find the commercial where he plays a male cow with udders.
Your Daily Blend of Entertainment News