Josh Gad And Kevin James Game For Adam Sandler's Pixels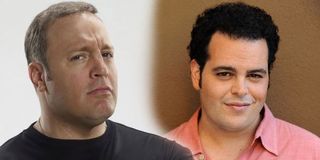 Right now comedian Josh Gad is on fire thanks to his scene-stealing turn as the adorable talking snowman Olaf in Disney's Oscar-nominated blockbuster Frozen. On the other hand, Kevin James is coming off Grown Ups 2, which is currently nominated for 8 Razzie Awards. Nonetheless both look to be coming together for roles in the next Adam Sandler venture, Pixels.
THR reports Gad and James have entered into early talks for Pixels, a comedy inspired by a short film of the same name that made the rounds in 2010. The imaginative animation - viewable below - showcased what might happen to New York City if it were overrun by the characters of 1980s video games. As you might imagine, the answer is delightful mayhem.
Sandler is serving as a producer on the project, while the short's creator Patrick Jean will executive produce. Timothy Dowling, who contributed to the stellar R-rated comedy Role Models as well as the Sandler-fronted rom-com Just Go With It, has been tasked with the adapted screenplay's latest draft. But outside its source material, the latest news on the project tips nothing in the way of plot, so we have no way of knowing what roles Gad and James are being eyed for. However, there is one surprising update in the THR piece, and that's the announcement that Chris Columbus is now aboard as Pixels' director.
Columbus is best known for helming the first two Harry Potter movies as well as the first two Home Alone movies. Typically, his area of expertise is family-friendly comedies with a touch of adventure, like those and Mrs. Doubtfire. This suggests that Pixels might be a Happy Madison project in the vein of the PG comedy Bedtime Stories, rather than more mature raunchier fare like Grown Ups 2.
This makes Columbus the third director to be attached to the project. A few months after Sandler bought the rights to the short "Pixels," he had selected Saturday Night Live writer Tim Herlihy to draft and direct the feature film. It would have been Herlihy's directorial debut, but this incarnation of the project never came together. By the summer of 2012, Sandler was back to the drawing board, bringing King of Kong and Horrible Bosses helmer Seth Gordon on as producer with the potential to direct. Gordon's involvement is not mentioned in the THR item, and Herlihy's script appears to be long behind us.
The original short was something spectacular, but it's hard to discern how promising the feature is at this point. Sandler has a spotted history as a producer, making mostly critically loathed comedies that are hit or miss at the box office. Columbus is a competent director, but he hasn't been an exciting one for decades. And even Gad and James is a mixed bag, as one has a remarkable charisma that has us thrilled to see him in any cast, while the other has been floundering to find his niche. But what do you say? Does Pixels sound like it will be a breakout hit?
This poll is no longer available.
Your Daily Blend of Entertainment News
Staff writer at CinemaBlend.