Watch The Major Pot Ad That Was Pulled From TV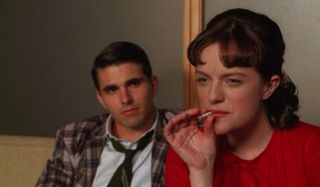 With the growing nationwide acceptance of recreational marijuana, purveyors of the newly legalized herb will obviously have to market their product. After some recent controversy, the supposed first major ad for weed will hit the Oregon airways – check it out below.
The ad – which KATU-TV pulled in Portland, Oregon last week – has found new life in the KMTR and KTLV markets in Eugene and Medford, respectively. Featuring businessman Alex Rogers, the clip lays out the recent changes in Oregon marijuana laws, and invites citizens to indulge their curiosity at this year's Oregon Medical Marijuana Business Conference. It comes as somewhat of a surprise that the advertisement caused such controversy in the first place, it takes a levelheaded approach to the controversial substance, and focuses more on marijuana legislation than sensationalizing the drug itself. It's all very analytical, and ultimately not that mind blowing.
According to the report, KATU-TV initially had no qualms with airing the advertisement in their market, but showed trepidation, and subsequently pulled the clip when news outlets began reporting that it would be the first of its kind. With that in mind it seems to indicate that KATU-TV found itself less concerned with the implications of advertising marijuana, and more concerned with becoming one of the first media outlets to do so. It's an all around odd situation when we consider the fact that KATU-TV broadcasts out of Portland -- often noted for its liberal, progressive thinking. One would assume that the city would jump at the opportunity to host such a supposedly groundbreaking moment.
However, the accuracy of such claims remains open to debate. Earlier this year, another advertisement aired on major networks that humorously parodied the absurd concept of purchasing weed from a street dealer as opposed to a legal, regulated outlet. This ad focused much more directly on marijuana itself, rather than educating viewers on regulations, and aired during major programs such as Jimmy Kimmel Live! and Good Morning America – obviously only in states where the herb has become openly available.
While the winds of change seem to be blowing towards weed's inevitable ubiquity, it's been a slow process to say the least. This comes as somewhat of a shock when we consider the prevalence and popularity of alcohol ads in American society. Alcohol can have equally – or even far greater – negative impacts on one's life than marijuana, as many of the new advertisements for weed have endeavored to educate consumers about that fact.
It's all an incredible signal of progress. There was once a time when the media portrayed pot as a gateway drug that incited Reefer Madness; it now has become a product that can be advertised in just as boring a manner as anything else.
Originally from Connecticut, Conner grew up in San Diego and graduated from Chapman University in 2014. He now lives in Los Angeles working in and around the entertainment industry and can mostly be found binging horror movies and chugging coffee.
Your Daily Blend of Entertainment News
Thank you for signing up to CinemaBlend. You will receive a verification email shortly.
There was a problem. Please refresh the page and try again.