Watch Reese Witherspoon And The SNL Cast Hilariously Pay Tribute To Their Moms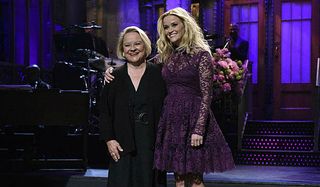 Paying tribute to mom has never been funnier. Leave it to Reese Witherspoon and the cast of SNL to make even a heartfelt apology to mom super hilarious. Take a look.
In the video from the latest episode of NBC's Saturday Night Live, guest host Reese Witherspoon and the entire cast of SNL paid an awesome tribute to each of their moms by apologizing for "real, terrible things they did to them." The hilarious Mother's Day tribute was just about what you would expect from the cast of funny men and women. The only thing funnier was the surprise apology that the moms gave in the end, and it was so good. Clearly, the SNL comedians got their gift of being funny from mom.
From angry notes on the computer to mom, to re-enactments of the shooting of Mary Jo Buttafuoco by Amy Fisher, to slapping schoolmates and breaking their glasses, to peeing everywhere, to blaming grandmothers for writing on the wall and covering it up with talk of miracles, SNL cast apologies ran the gambit of gross and disturbing. Then again, what do you expect from future comedic actors and actresses, they were obviously in touch with their ability to express themselves even if it was hard for the moms—but funny for the audience—to hear. The look on their mother's faces made it even funnier. Of course their moms had something planned themselves, which we found out at the end of the segment.
Though it was funny to hear the SNL cast and the Legally Blonde actress publicly apologize to their mothers on national television for some embarrassing moments, the moms outdid their funny kids by showing home videos of the SNL cast when they were younger. Just like the apologies from the SNL cast and Witherspoon, the videos just keep getting funnier as they played. Aidy Bryant's rendition of Christina Aguilera's "Genie in a Bottle," was just the beginning of the laugh out loud footage. Kyle Mooney's really serious guitar solo of The Beatles classic "Oh, I Believe in Yesterday," to Pete Davidson's show me your features with Dad, to Reese Witherspoon's gross faces, to Cecily Strong's cocaine skit and Jay Pharoah's crying video, it was pretty obvious that the young stars were meant to be in entertainment, because they were all hamming it up as children. Kate McKinnon's put it best when she said:
Catch the season finale of Saturday Night Live next week with hysterical host Louis C.K. and musical guest Rihanna on NBC.
Your Daily Blend of Entertainment News