Reese Witherspoon Was Pitched A Weird Idea For Legally Blonde 3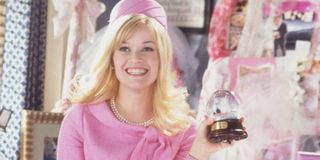 Will we ever see a Legally Blonde 3? According to Bravo TV host Andy Cohen, "everyone" wants to know. The first film is a classic with an immense following, while the second was meh, but even I have to admit I enjoyed it a little bit through the naivety of my youth. So when Cohen had Reese Witherspoon on Watch What Happens Live with her Hot Pursuit co-star Sofia Vergara, he broached the subject. While Witherspoon doesn't know if a third installment will ever happen, she did say that she received one offbeat idea for it.
She told Cohen,
"Or into the army," Cohen suggested, referencing Private Benjamin.
Well, something would have to be done to up the ante. The first film saw Elle Woods chasing her ex-boyfriend to Harvard, crushing it, falling in love with one of her professor's assistant (Luke Wilson) and winning her first case. The second film saw her heading off to Washington, D.C. to tackle Congress. So, someone seems to think that jail would be the next logical step for someone who, despite all odds, has always come out on top. Pink is the new black?
Witherspoon previously said that at one point or another Legally Blonde 3 was being considered for development. Back in 2013, her co-star Jennifer Coolidge said that Witherspoon turned down offers to star in another sequel, but even now there are no motions being made to made it. Watch her full statement to Andy Cohen below.
There have been many failed attempts to continue the legacy of Elle Woods and the Legally Blonde franchise. One was that god-awful straight-to-DVD Legally Blondes movie. It centered on the twin younger cousins of Elle Woods as they moved from England to California. They are framed for a crime and they must defend themselves using the Elle Woods rule book. Then there was the attempt at a Broadway musical. MTV aired the entire production on air, as hosted by The Hills' Lauren Conrad and Whitney Port, but even that didn't help bolster the less-than-stellar run. There was a last ditch effort to drum up buzz by airing a reality competition show called The Search for the Next Elle Woods. Eventually, the Broadway show was canceled.
At this point, it looks like Reese Witherspoon is done with this part of her life, and not even a premise like Illegally Blonde would get her to come back. If there was ever a future for another movie, a reboot would probably be the best option.
Your Daily Blend of Entertainment News
Your Daily Blend of Entertainment News
Thank you for signing up to CinemaBlend. You will receive a verification email shortly.
There was a problem. Please refresh the page and try again.