Weeds Review: Season Six Kicks Off With A Thwack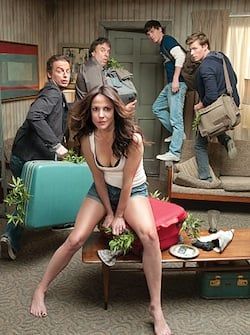 I think I can remember a two-episode stretch where things were actually going well for Nancy Botwin. It was around the middle of the second season when Snoop Dogg showed up and wrote a rap about Conrad's new strain. At the start of Season 6, however, Nancy can officially be crowned the Queen of Conflict, and if the first episode is any indication, it's going to be a wild ride from here on out.
This is a warning for your benefit: this post contains massive spoilers to the last half of Season 5, particularly the season finale. If you are not caught up with the series, please stop reading, head over to Netflix and don't stop streaming until you're up to date.
The season premiere, appropriately titled "Thwack," kicks off right where we left our favorite former residents of Agrestic last season, with Shane holding a croquet-mallet-turned-murder-weapon and Nancy looking horrified at the now-dead Pilar bleeding and floating in the pool. It doesn't take more than a second for Nancy to realize that they need to get the hell out of town and, chugging vodka along the way, she gathers everything and everyone she can before the world finally collapses all around her.
It's important to start by stating an unfortunate fact: up until the final seconds, Season 5 was a boring let-down. Yes, there is something to be said about building the character of Esteban, but every episode was treading water and waiting for the next cataclysmic event, which Shane generously provided. After Season 5 the show needed to be shaken from its slumber and if the first episode of the season is any indication, they are going to succeed. The entire episode focuses on the Botwins and leaves the newly founded Celia Hodes gang to develop in another episode. It's a blessing that they did. The Botwins are on a speeding locomotive right now and anything getting in the way will be ignored and destroyed. The focus also allows the episode to maintain a frantic pace, important for a family that has to pull up roots after one of their own has become a murderer.
What's really impressive about the episode is that with one swing of a gaming club, Shane has made himself the most interesting character on a show that is almost exclusively filled with interesting characters. We've always known that he is a bit off – pretending to see the ghost of his dead father, biting people in karate class, making fake terrorist videos, masturbating to pictures of his mother – but this puts him into a whole new class. Everything up to this point could have classified him as a neglected child. Now he's beginning to look like a sociopath.
It's hard not to be excited by the season premiere. The family is finally on the move again with plenty of demons on their tail. I expect a good chunk of the season to be dedicated to Shane's newly found dark passenger (yes, I went there) and I for one can't wait. Bienvenido, Season 6. Can't wait to see what you have in store.
Weeds Season 6 premieres Monday, August 16th at 10:00 p.m. ET/PT on Showtime.
Your Daily Blend of Entertainment News
Assistant Managing Editor
NJ native who calls LA home and lives in a Dreamatorium. A decade-plus CinemaBlend veteran who is endlessly enthusiastic about the career he's dreamt of since seventh grade.