This Weekend's Spooktacular TV Listings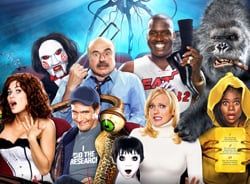 Halloween is almost here and since plenty of you out there are probably looking for some great scary movies and other Halloweenish-type episodes and specials to watch this weekend. We took a look at the listings and pulled out a few things we thought you might be in the mood for.
Friday (10/24):
8:00 p.m.
Addams Family Values - ABC Family – Uncle Fester plans a wedding, Addams-style!
Halloween - AMC – Carpenter's classic scream-flick
Doomed to Die? 13 Most Shocking Hollywood Curses - E! – Do you believe in curses? E! features thirteen supposed Hollywood curses in this new special.
Ghost Adventures - The Travel Channel – Catch the premiere of this new series, which follows Zak Bagans as he conducts paranormal investigations. The premiere is followed by an all new episode at 9:00 p.m. in which the team heads off to the Houghton Mansion in North Adams, MA to search for ghosts.
Unwrapped - Food Channel – See how some classic Halloween treats are made!
9:00 p.m.
The Haunted Mansion - Disney Channel – it's the Disney version of scary, which means not scary but still fun.
Wicked - Lifetime – Starring Julia Stiles, this movie centers on a troubled teen who assumes her murdered mothers identity.
10:00 p.m.
Halloween 4: The Return of Michael Myers - AMC – He's baaaack!
Saturday (10/25):
7:00 p.m.
Scooby-Doo - ABC Family – The gang investigates a spooky theme park. What else is new? While the theme remains the same, this 2002 film does transform the retro animated series to live action… mostly.
Scary Movie - Comedy Central – The Wayans brothers poke fun at some great horror movies in this hilarious spoof comedy.
Ghost Voyage - Scifi – Antonio Sabato Jr. stars in this film about a bunch of strangers who wake up on a haunted cargo ship.
8:00 p.m.
Psycho - TCM – Alfred Hitchcock's classic horror film about a creepy motel.
Ghostbusters II - Bravo – Not so scary but full of laughs as the Ghostbusters attempt to reclaim some of their old NYC ghostbusting glory in a city that no longer thinks they need saving.
9:00 p.m.
Scooby-Doo 2: Monsters Unleashed- ABC Family – Liked the first one? Catch the sequel!
Scary Movie 4 - Comedy Central – Wayans brothers spoof War of the Worlds, Saw and The Grudge.
The Ferryman - Scifi – Headed to Fiji on a charter boat, a group of passengers share a cruise with an injured survivor with a horrible secret.
MonsterQuest - History Channel – This episode of the History Channel series features stories of supposed huge snakes that eat people and large animals.
Peeping Tom - TCM – Creepy Michael Powell film about a filmmaker who is obsessed with capturing death on film.
10:30 p.m.
Even Scarier Movie Moments - Bravo – Countdown of some great scary movie moments including scenes from Dawn of the Dead, Vertigo, and A Clockwork Orange.
11:00 p.m.
Clue - ABC Family – Like the board game, only funnier! A group of seemingly unconnected people each with a secret to hide are brought together for a dinner party. The problem is, people keep dying and no one knows who to trust.
Sunday (10/26):
7:00 p.m.
Jeepers Creepers 2 - Sci Fi – The creepy monsters preys on a bus full of high school athletes.
Beetlejuice - ABC Family – He's the ghost with the most. Just don't say his name or he'll haunt your house or force your dinner party to lip-sync. Scary! (not really)
8:00 p.m.
My Boyfriend's Back - Soap – A guy dies but comes back to be with the girl he loves. Not scary. Not even really all that funny. Mostly silly.
9:00 p.m.
The Pumpkin Karver - Sci Fi – A killer with a pumpkin head shows up at a Halloween party on a deserted farm.
Halloweentown 2: Kalabar's Revenge - Disney – Good witch Aggie attempts to save her hometown from something evil.
Poltergeist - ABC Family – Classic Spielberg movie about a family whose home gets invaded by some evil supernatural force.
Deliverance - CMT – It's just a canoe trip! What could go wrong? If this classic scary film has anything to say about it, a lot!
Kelly joined CinemaBlend as a freelance TV news writer in 2006 and went on to serve as the site's TV Editor before moving over to other roles on the site. At present, she's an Assistant Managing Editor who spends much of her time brainstorming and editing feature content on the site.
Your Daily Blend of Entertainment News
Thank you for signing up to CinemaBlend. You will receive a verification email shortly.
There was a problem. Please refresh the page and try again.