What Exactly Is The Secret Project Hawkgirl Is Working On?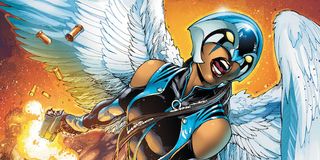 Among the many characters who have been announced for the Arrow/The Flash spinoff is Kendra Saunders, a.k.a. Hawkgirl, played by theater actress Ciara Renée. This version of the character will be a young woman who discovers that she has been reincarnated many times over the centuries, and transforms into a winged warrior whenever she is provoked. With no official release date planned for this spinoff yet, it's hard to get a read on how much progress the project is making, but there have been hints recently that we may be seeing Hawkgirl sooner than anticipated.
Several days ago, Renée posted several images on her Instagram account mentioning her traveling to Vancouver, British Columbia, where Arrow and The Flash both film. Another image was soon posted of a trailer door with a paper sign taped to it that read, "The Flash Welcomes Kendra Saunders," but that was eventually taken down. This led fans to speculate that her character Kendra would be appearing in The Flash Season 1 finale, which has been filming recently, but sources told Flash TV News that Renée would not be appearing in that episode. So what exactly is going on with this TV version of Hawkgirl? Assuming that the network isn't lying to us (which has been known to happen with superhero projects), a few options spring to mind.
First, if this spinoff has been making significant developments, then perhaps the show is already at the stage where the actors are being brought in for costume tests. Renée may be getting measured for the outfit she'll be wearing in the spinoff. This could also lead to photoshoots of the actress suited up as Hawkgirl, similar to when CBS released a Supergirl photo of Melissa Benoist dressed as the titular character last month.
Given that the producers of the spinoff have been looking at a 2016 midseason release, there's also the slim possibility that the pilot will begin shooting soon, although that's hard to say given that aside from casting announcements, no other pieces of information have been divulged about this project. Heck, the CW hasn't even confirmed a title, although it's tentatively rolling with The Atom. However, thinking outside the box for a minute, the CW could be shooting a small teaser for the spinoff.
Last year during the Arrow Season 2 finale, the show dedicated an extra minute to a promo of Oliver Queen interacting with Barry Allen, teasing The Flash's premiere in September 2014. The CW may be pulling something similar for the spinoff. If that's the case, then that may serve as our first look at Renée's Hawkgirl, along with (possibly) other new characters like Rip Hunter, the "Mystery Hero" and the well-known DC villain.
Whatever Renée's business in Vancouver may be, we'll keep you updated on any developments regarding the spinoff. If the project gets off the ground, Renée will be part of a cast that consists of Brandon Routh as The Atom, Victor Garber as Dr. Martin Stein, Wentworth Miller as Captain Cold, Caity Lotz (no word yet on who she is playing), Dominic Purcell as Heat Wave and Arthur Darvill as Rip Hunter.
Your Daily Blend of Entertainment News
Connoisseur of Marvel, DC, Star Wars, John Wick, MonsterVerse and Doctor Who lore. He's aware he looks like Harry Potter and Clark Kent.
Your Daily Blend of Entertainment News
Thank you for signing up to CinemaBlend. You will receive a verification email shortly.
There was a problem. Please refresh the page and try again.