What Natalie Dormer Really Struggles With On Game Of Thrones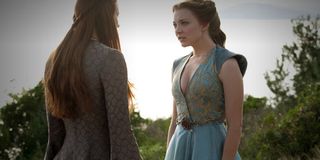 Natalie Dormer recently hopped from The Hunger Games army-esque gear back into her Game of Thrones silk skirts to shoot the upcoming fifth season of the HBO series. The actress, who plays Margaery Tyrell on the drama, loves the beautiful and intricate gear put together for her Game Of Thrones character, but the clothing is also a constant source of struggle, thanks to being created out of a ton of flowing material that gets in the way.
Dormer's Margaery Tyrell is pretty cool, calm and collected at all times on the series, so it's pretty funny to think of her having an epic fall down some precarious cliffs. I imagine it looked something like this:
Dormer's character has plenty of presence onscreen and when we get the final versions of the episodes, it's definitely difficult to tell that she is having trouble moving in those beautiful but constricting pieces of clothing. However, according to the interview with Yahoo, falling down some cliffs may not have even been the worst trip the actress has endured on set.
No cameraman seems to have been hurt in the incident and we can all be thankful she wasn't carrying that crossbow at the time. And while long skirts may be an issue for Dormer, at least she doesn't have to deal with some of the other costume and haircut restrictions her fellow actors and actresses must deal with. We've already seen some of the uncomfortable-looking armor characters like Cersei and the upcoming Sand Snakes will wear, and poor Kit Harington, who plays Jon Snow on the series, hasn't been able to cut his hair for half a decade, now.
It can definitely be tough to be a part of a series as intricate as Game of Thrones, but the cast, including Dormer, definitely crushes it. Now, we just need to convince HBO to put all of these flubs and falls onto a gag reel the next time the company is putting together a full-season Blu-ray (opens in new tab) set.
Game of Thrones is expected to hit the schedule in the spring of 2015. Recently, HBO released a preview of 2015 content, if you want to check out what the fantasy series has in store. Additionally, here's everything we know about Game of Thrones Season 5 so far.
Reality TV fan with a pinch of Disney fairy dust thrown in. Theme park junkie. If you've created a rom-com I've probably watched it.
Your Daily Blend of Entertainment News
Thank you for signing up to CinemaBlend. You will receive a verification email shortly.
There was a problem. Please refresh the page and try again.