What Prince Thought Of His Infamous Chappelle's Show Sketch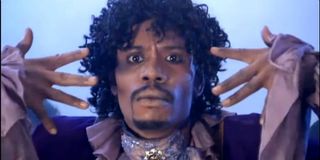 It's been an undeniably bad week in the world of pop culture. The tragic passing of Prince has reverberated not just through the music industry, but also into other facets of the world of entertainment. He had a long and stellar career, and his influence was felt by millions of people through various mediums. One of the most iconic pop culture moments involving Prince was the infamous Dave Chappelle sketch about the singer from 2004. It perfectly lampooned the singer's eccentric nature, and as it turns out Prince absolutely loved it.
Speaking with THR, former Chappelle's Show actor Donnell Rawlings opened up about Prince's attitude towards the legendary sketch:
So it seems that Prince had a pretty damn good sense of humor. Anyone who watched Chappelle's Show back in the day will remember the sketch in question. Comedian Charlie Murphy recounted a time he met Prince back in the 1980s, and because he was a fan of Eddie Murphy's comedies he invited the whole group back to his place to listen to music. That's when things started to get weird.
While hanging out at Prince's place, the singer became bored of partying and asked everyone if they wanted to play a game of basketball. After completely schooling the Murphy's on the court (while still wearing his flamboyant outfit from the club), Prince goes on to make them pancakes. The sketch is completely absurd, and made all the funnier by Charlie Murphy's constant insistence that it actually happened.
Although the Rick James sketch technically came first and generated the more iconic catchphrase ("I'm Rick James, bitch!") the Prince sketch arguably represents the funnier of the two. That's because Dave Chappelle and everyone else involved play the segment so straight and deadpan, it perfectly encapsulates the singer's odd mystique. It mocks the singer's eccentric nature, but also manages to do so in a way that never feels malicious or mean-spirited, which is an incredibly difficult feat to pull off in the world of comedy.
Check out the now iconic sketch below to take a trip down memory lane:
Prince had an insanely poignant impact on the world of pop culture. Although his fans will miss him dearly, he has definitively left his mark on the modern entertainment landscape. With that in mind, the Chappelle's Show Prince sketch only represents a small aspect of his influence, it's one we will absolutely never forget. Rest in Peace, Prince.
Obviously, following Prince's tragic loss, outlets all across television and the internet paid tribute to the fallen store. Most were really beautiful and appropriate. Unfortunately, MTV's turned into an unintentionally hilarious disaster when they screwed up in a big way. To get the full story, click to the next page. In fact, MTV put together an epic Prince marathon on the day the iconic musician died. Unfortunately, the network had some search function problems and accidentally shoehorned in a song from Fresh Prince and D.J. Jazzy Jeff between the songs "New Power Generation" and "Controversy.
Obviously, the internet caught this unfolding, and put out a slew of creative and amusing tweets related to the MTV incident. You can catch one of our favorites, below:
For the full and hilarious story, head here.
Your Daily Blend of Entertainment News
Originally from Connecticut, Conner grew up in San Diego and graduated from Chapman University in 2014. He now lives in Los Angeles working in and around the entertainment industry and can mostly be found binging horror movies and chugging coffee.