What's on TV on New Year's Eve: A Guide To Ringing In 2014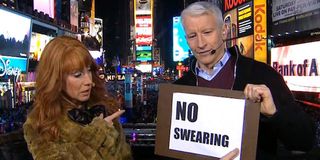 When December 31 comes around each year, most people like to go out and make a scene. Cause a ruckus. Go out with a bang! But sometimes the night calls for a quieter evening in, which is where our round-up of the evening's happenings comes in handy — ensuring you know exactly what channel to turn on to catch Kathy Griffin and Anderson Cooper play-bickering, see a Bald Eagle-and-American-Flagged out celebration, or even listen to some tween sensations. We're here to help, to make sure that you ring in 2014 however the heck you want. It's your new year, too, after all: so do with it as you please!
Dick Clark's New Year's Rockin' Eve With Ryan Seacrest
ABC, 8PM
Hosts: Ryan Seacrest, Jenny McCarthy, and Fergie
Line-Up: The first two hours will consist of another countdown special entirely: New Year's Rockin' Eve Presents: The 30 Greatest Women in Music. Performers for the main event starting at 10PM include Miley Cyrus, Macklemore & Ryan Lewis, Blondie, Icona Pop, Ariana Grande, Capital Cities, Daughtry, The Fray, Robin Thicke, Enrique Iglesias, Jason Derulo, Fall Out Boy, Florida Georgia Line, Jennifer Hudson, Pitbull, and Billy Joel.
New Year's Eve Live With Anderson Cooper and Kathy Griffin
CNN, 8PM
Hosts: Anderson Cooper and Kathy Griffin
Line-Up: These two don't need much to make a scene and cause a New Years' ruckus (we're sure Griffin has all that ridiculousness planned out to a T). The charismatic duo — who allegedly shot a TV pilot together — will send the world into 2014 with an undoubtable bang. Since it is CNN — a news outlet — though, there will be reporters live around the world ringing in the New Year as well. At 8PM, a pre-special All The Best, All The Worst of 2013 will highlight the years' antics in politics and pop culture.
New Year's Eve Live!
Fox, 11PM
Host: Mario Lopez
Line-Up: Broadcasting live from Las Vegas, Mario Lopez's hour of New Years Eve programming will include a viewing of the NYC ball drop in addition to performances by J. Cole, Krewella, New Politics, and Panic! at the Disco.
All-American New Year
Fox News, 10PM
Hosts: Elisabeth Hasselbeck and Bill Hemmer
Line-Up: Several Fox News personalities will be on hand in Times Square to help ring in the new year. And it's also being reported that Willie and Korie Robertson of Duck Dynasty fame will be on-hand as well. Performances by Rodney Atkins, Blues Traveler, and Susan Boyle.
New Year's Eve With Carson Daly
NBC, 10PM
Hosts: Carson Daly and Jane Lynch
Line-Up: America's Favorite Cool Dad, Carson Daly hosts an evening of music and more alongside Glee's Jane Lynch. Prior to, Kathie Lee Gifford and Hoda Kotb will get their drink on at 8PM during A Toast to 2013!, where the ladies will look at the year's highlights. It will feature interviews with several stars, including Pharrell Williams and Michael Bublé. During the main event, Mariah Carey and Blake Shelton will be on hand to perform while comedians Natasha Leggero and Anthony Anderson will also help out with hosting duties.
TeenNick Top 10: New Year's Eve Countdown
Nickelodeon, 11PM
Host: Nick Cannon
Line-Up: Mr. Mariah Carey hosts the tweened-out version of a New Years Eve television special will be hosted live from Viacom's headquarters at 1515 Broadway, smack-dab in the heart of Times Square. The bands Echosmith and 4Count will be on hand to perform.
Girl Code Presents: New Year's Code
MTV, 10PM
Hosts: Carly Aquilino and Charlamagne tha God
Line-Up: Stars from MTV's series Girl Code and Guy Code will walk you through the proper etiquette for your New Years Eve parties, including tips on hangover cures, resolutions, and putting your mouth on another person's mouth at midnight. They will also discuss the years' top moments in popular culture.
Your Daily Blend of Entertainment News
Thank you for signing up to CinemaBlend. You will receive a verification email shortly.
There was a problem. Please refresh the page and try again.