What's Wrong With Stephen Colbert's Late Night Show, According To Chelsea Handler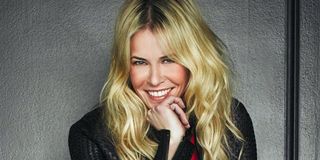 Two years after the end of her E! talk series, Chelsea Handler is preparing to launch a brand new show in a brand new way. She's signed on with Netflix for Chelsea, a new talk series that will be produced three times per week on Netflix for a worldwide audience (that is, if Handler catches on outside of the US). She's obviously pretty jazzed about the new sort of TV project, and she's using the platform as a launch pad to talk about what's wrong with late night, and namely Stephen Colbert's new show. Here's what she had to say in a recent interview.
Look: It's a widely known fact that Stephen Colbert didn't come in and just totally dominate the competition in late night. He and Jimmy Kimmel have been scrambling to beat each other in the ratings week in and week out, and both of them are getting their butts kicked by Jimmy Fallon, who totally seems to have the late night game figured out. Now, CBS is even looking to revamp The Late Show with Stephen Colbert in order to entice more viewers. But Stephen Colbert has also made a concerted effort to bring a sharper edge to late night, bringing in politicians, inventors, entrepreneurs and a much wider spectrum of late night guests. His strength is in his interviews, which I guess is similar to Letterman, but the show's really not. He's also buttoned up quite a bit from his days on Comedy Central.
I can see how Chelsea Handler would want to bring up a conversation with the NY Times about the homogenous nature of late night. Yes, there isn't enough diversity in late night. But to call out Stephen Colbert as if he's somehow the root of the problem is pretty unnecessary. And to say he's simply trying to be Letterman 2.0 seems really unfair, or at least proves that she needs to give the show another watch.
It's all probably in a drive to prove what Chelsea Handler is doing is very different than the other talk show fodder out there. She's not sitting on a panel with a bunch of ladies talking about controversial topics in a light manner early in the morning before the coffee jitters have set in. She's not doing what the late night boys are doing—trying to beat the competition through viral videos and more. In fact, she won't have to worry about the ratings as much on Netflix. She just needs to figure out how to get content out there that is still timely and interesting while maintaining an evergreen quality that fits the binge model. It's a task and we're interested to see if she can do it, but that doesn't mean she needs to slam her competition on the way up.
You can catch Chelsea starting on May 11, only on Netflix.
Your Daily Blend of Entertainment News
Reality TV fan with a pinch of Disney fairy dust thrown in. Theme park junkie. If you've created a rom-com I've probably watched it.
Your Daily Blend of Entertainment News
Thank you for signing up to CinemaBlend. You will receive a verification email shortly.
There was a problem. Please refresh the page and try again.