Why Britney Spears Walked Off The X Factor Stage In North Carolina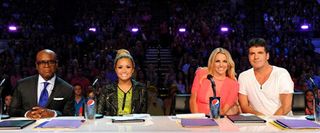 In North Carolina,Britney Spears and her X Factor judging companions were sitting in on an audition round when a man dressed in drag decided to perform a B. Spears tribute song. The performance was so shocking for the pop singer, she eventually had to leave the stage to compose herself. Eventually she came back, stating she "really respect(ed) the tribute," but clearly something was amiss. Now, the 30-year-old and her fellow judges have spoken out to explain why the pop star hopped up during the performance.
While yesterday's news was placing prominence on Spears getting up in front of someone dressed in drag, other judge L.A. Reid told Us Weekly it was the actual performance that was the hardest to deal with for her—and not just because someone was singing her own music.
Spears also said she was just following her fellow judges when she headed offstage, noting it was time for their "dinner break.". She even made certain to return to the stage to tell the contestant he would not be a good fit for the show in as nice of a way as possible.
Anyone who has ever witnessed a particularly ill-fitting, untalented, or obnoxious contestant on any sort of TV talent show will now have a picture of the type of situation the judges were in. Maybe Spears has not wholly gotten used to dealing with these types of contestants, but her walking off stage was certainly no sort of breakdown. In fact, I would argue heading back to the stage when Reid and 19-year-old Demi Lovato wouldn't was rather a class act. We'll simply have to wait and see how Spears truly responds as a judge when FOX's The X Factor premieres this fall.
Your Daily Blend of Entertainment News
Your Daily Blend of Entertainment News
Thank you for signing up to CinemaBlend. You will receive a verification email shortly.
There was a problem. Please refresh the page and try again.