Why Will Ferrell's SNL Audition Went Terribly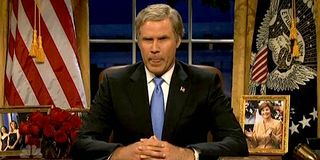 At this point just about everyone on earth believes Will Ferrell to be a comedic genius. Even back to his days on NBC's Saturday Night Live we all went nuts for the guy. That's why it's so surprising to learn he apparently had a terrible audition for the late night sketch comedy show. Read on to see what Ferrell had to say about his self-proclaimed moment of failure.
Not only is it interesting to learn Ferrell wiffed during his SNL audition, it's also quite funny to hear it was a Bill Clinton impression that (in his mind) was to blame—due to the fact he later came to embody George W. Bush in an ongoing impression that was nothing short of brilliant. It's also cool to hear Ferrell give a shout out to Hammond in his interview with HuffPo, as all of us who watched SNL during those days knows he gave a spot-on rendition of Clinton. With the amount of experience Hammond has built up embodying the former president, I'm pretty sure his impression would be pretty difficult to beat... even by someone as hilarious and talented as Ferrell. Regardless, Ferrell's impression discussed above (different from the footage that is available) would certainly be worth checking out.
Saturday Night Live has been instrumental in bridging the gap between comedy and politics. Over the years, there have been a number of top-tier impressions brought to the screen by SNL vets. Some of the more notable renditions that come to mind are Dan Aykroyd as Richard Nixon and Jimmy Carter, Chevy Chase as Gerald Ford, Phil Hartman as Ronald Reagan, Dana Carvey as George H.W. Bush, Fred Armisen and Jay Pharoah as Barack Obama and of course Ferrell as Bush Jr. and Hammond as Clinton. While Hillary Clinton, Sarah Palin and Rudy Giuliani never held office, Amy Pohler, Tina Fey and Taran Killam all, respectively, offered up hilarious and noteworthy impressions of the three political figures. Here's a great moment, thanks to Funny Or Die, that brought many of the above-mentioned actors together onscreen in a hilarious presidential mashup.
Will Ferrell and co-star Kevin Hart, who recently delivered an epic lip sync battle with Jimmy Fallon, can be seen together in their upcoming movie Get Hard, which hits theaters March 27, 2015.
Your Daily Blend of Entertainment News