Why Miss Universe Does Not Want To Share Her Crown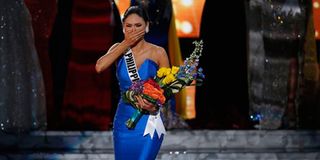 It's been a few weeks since Steve Harvey announced the wrong winner at the Miss Universe 2015 pageant. Since some time has passed, you would think the whole controversy would have died down. However, Miss Colombia, aka Ariadna Gutierrez, has been a bit flummoxed in the time since and has even suggested she should get to share the crown with Pia Alonzo Wurtzbach, the new Miss Universe. This morning, Wurtbach gave her own feelings on the matter, and obviously, she doesn't want to share the crown. Here's why.
As the Miss Universe 2015 winner, Pia Alonzo Wurtzbach actually starts her duties today, and as such, she spent her first morning as the reigning Miss Universe on Good Morning America. Obviously, while Wurtzbach has handled the awkwardness onstage and the aftermath of Steve Harvey's flub pretty gracefully, it hasn't stemmed the tide of questions related to the incident being thrown at her. However, when she says it would be "difficult" for two girls to share a crown, it's easy to see her side of the story.
Not only would it be hard—and cruel—to rip that heavy and jewel-encrusted crown into two pieces, a la Mean Girls, the various Miss Universe contestants have different charities and platforms that they are involved with. It would be both confusing and annoying for both ladies to have to work together for another year, especially when deciding what events to attend and what platforms to support. In addition, can you imagine how awkward it would be every time the two ladies would theoretically have to appear together? Let's keep the problems in the past, shall we?
Plus, if we are getting down to the details here, despite Steve Harvey initially saying Ariadna Gutierrez was the winner of the Miss Universe 2015 pageant, she never actually won the pageant. Pia Alonzo Wurtzbach was always the rightful wearer of the crown and it's easy to see why she would feel like she shouldn't share it. She did tell the early morning show that she can see where Gutierrez is coming from, at least.
She'll have plenty of other opportunities, just not Pia's crown, amiright? We'll let you know if Miss Colombia ends up responding.
Reality TV fan with a pinch of Disney fairy dust thrown in. Theme park junkie. If you've created a rom-com I've probably watched it.
Your Daily Blend of Entertainment News
Thank you for signing up to CinemaBlend. You will receive a verification email shortly.
There was a problem. Please refresh the page and try again.