Why The Saturday Night Live Diversity Issue Is Really Complicated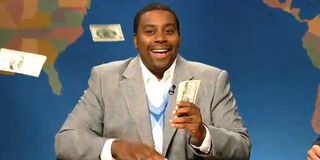 Yesterday, a report came out over at TV Guide in which Saturday Night Live cast member Kenan Thompson was grilled about the fact that there is a lack of diversity in the SNL cast, including no female African American players at the present time. When asked why he thinks this happens over and over, Thompson was put on the spot and responded with the following quotation.
While that's probably not the most eloquent quotation I've ever heard from someone in show business (or any business), the Internet has been abuzz for the last day and a half pointing fingers at SNL for lacking in diversity and pointing fingers at Thompson for saying black women aren't funny. Upon further review, however, Thompson never said there's a lack of overall minority talent out there, and many of the supposed solutions people have since come up with to solve the problem are wild and unreasonable.
Let's tackle that first statement first. While it may be true that SNL isn't looking for talent in a wide variety of places, that doesn't mean the late night sketch series isn't giving people of color a shot. What we do know for sure is that SNL mostly pools talent from a few specific communities in the United States, communities that include the Upright Citizens Brigade, Second City Players and the Groundlings. These places definitely have some minority contributors, but it's a limited number that's already being chosen from a very limited number. We have no idea how well all of the auditions went. All we can learn from Thompson's statement is that some black women are getting auditions and haven't worked out. Thompson's certainly not saying he thinks all African American women aren't funny, as a few attention-grabbing headlines have noted (like this, this and this (opens in new tab)).
More to the point, however, I've heard a lot of people talk about how SNL would be funnier if they could just hire someone like Aisha Tyler or Retta to perform on the show. TV Line was a terrible offender of this today, but apparently SNL cast member Jay Pharoah told The Grio that he thinks more women of color should be on the show, noting that he thinks Love Thy Neighbor actress Darmirra Brunson should get the gig.
The problem with all of these suggestions is that they make no sense whatsoever. Tyler's an established actress with her hands in a ton of projects at once, including starring in FX's Archer and hosting the brand new season of Whose Line Is It Anyway?. Retta is also an established actress who worked a ton of guest stints before landing an awesome gig on NBC's Parks and Recreation. Brunson's acting career is really just getting off the ground, but she's currently starring in OWN's Love Thy Neighbor, a show that both gives her a foot in the door in the Tyler Perry universe and also happens to bring more African American viewers in on Wednesday nights than any other series. SNL's a show for comedians who are just starting out and haven't gotten their foot in the door somewhere. These women are in their prime right now. They don't need SNL, and if I were them, I wouldn't want to live in the office and work the twenty hours a day schedule that SNL requires.
Saturday Night Live started out as one of the edgiest, ballsy, and most culturally relevant programs on television. Over it's nearly 40-year span, the late night sketch show has had to change and broaden its viewpoint to survive through decades of different NBC corporate heads, as well as changing generations of audiences. Because of this, the show may not be as diverse or edgy as factions of fans want it to be. I do know one thing, though: Lorne Michaels is an expert at changing with the times and keeping his baby on the air.
SNL airs on Saturday nights at 11:30 p.m. ET.
Your Daily Blend of Entertainment News
Reality TV fan with a pinch of Disney fairy dust thrown in. Theme park junkie. If you've created a rom-com I've probably watched it.
Your Daily Blend of Entertainment News
Thank you for signing up to CinemaBlend. You will receive a verification email shortly.
There was a problem. Please refresh the page and try again.