Wilfred Season 3 Review: Bizarre, Beautiful And Still Very Funny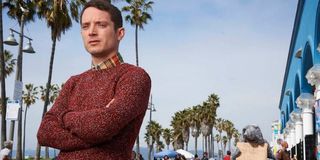 To be honest, I was worried. Going back through the annals of television history (especially recent history, Dan Harmon) not much good usually comes from a switch in showrunner(s) and I was worried that Wilfred, one of the most inventive and daring comedies currently airing, would experience the same ill fate. Well, it only took about four or five seconds of the third season to realize that FX's comedic answer to LOST was going to be just fine.
Not a lot was lost in the transition, probably because the network handled handing over the reigns perfectly by: promoting from within (with writer-producers Reed Agnew and Eli Jorné getting the showrunner gig), having David Zuckerman stick around as an executive producer as well as keeping series director Randall Einhorn behind the camera. Oh, and, let's not forget that Jason Gann, co-creator of the original Australian series (with Adam Zwar and Tony Rogers) and star of both, is still suiting up for the series as well as playing the most important role of keeping Wilfred's unique voice.
"The mistake is thinking there can be an antidote to the uncertainty." David Levithan
I said it only took a few seconds to feel like we're still in good hands because the opening shot of the Season 3 premiere immediately showed the series was still committed to delivering the most interesting cinematography of any television comedy. Of course, the look of Wilfred isn't the only standout aspect of the show, however, its singular aesthetic (thanks to Einhorn) is one of its most rewarding (and distinguishing) qualities. You may find the same type of crude, crass or clever jokes on another comedy but you would be very hard pressed to come across another that strives for such beautiful and interesting compositions.
And, I should add, that extends to the music as well. The whole endeavour amounts to the most cinematic comedy on television, a visual and aural delight that rivals even the best dramas. Hence the comparison to LOST, although the more formally stimulating approach to TV is hardly the only thing the two series have in common. They both also like to dabble in what J.J. Abrams calls the mystery box. Don't say that phrase around Wilfred, he's sure to make it something inappropriate. Sorry, let's go back to the series' unsolved mysteries because that "Uncertainty" is very much the focus of the third season premiere.
"Cure sometimes, treat often, comfort always." Hippocrates
The first episode is not nearly as daring as last year's incredible, albeit somewhat less accessible, 'Special Preview Episode' (called "Progress"), but it fits right in with the rest of Season 2 proper, picking up right where "Secrets" left off, as well as re-familiarizing fans with the show's 'title as thematic lesson' structure. At times Wilfred struggles to seamlessly incorporate the week's (im)moral, however, the premiere's focus - the pleasure of the journey not the destination (namely, Wilfred's ontological status) - couldn't be more apt.
If the writers solved the mystery, the show would be over so let's all sit back and enjoy the ride. Is he real, is he magic, is Ryan insane? At the moment, who cares! Besides, endings can be so disappointing. Not to name names. And yet, while "Uncertainty" is certainly concerned with nailing all these other visual, narrative and thematic aspects, it still manages several moments of sheer hilarity with Elijah Wood and Gann's of the charts chemistry. It is a comedy after all and just when you think things are getting a little too high concept, the man in a dog suit 'barks' wildly at a cuckoo clock.
"Suspicion is a heavy armor and with its weight it impedes more than it protects." Robert Burns
The jokes all almost always solid, some designed to shock while some let us just enjoy the silliness of the scenario, and the quality doesn't dip at all in "Comfort" or "Suspicion," Episodes 2 and 3 respectively. While "Uncertainty" found Ryan and Wilfred dealing with the past season's cliffhanger, examining the nature of their relationship and where Wilfred comes from, the next two installments put aside the more mysterious nature of the show to reintroduce the rest of the recurring cast members and shift into the third season's overarching plot which seems to be a continued search for sanity as well as an effort to build more relationships. Getting his life together. And that includes a renewed focus on getting the girl next door.
"Comfort" brings the Jenna (Fiona Gubelmann) and Drew (Chris Klein) love triangle back into the equation as Ryan also forges a new friendship with Wilfred's natural nemesis, the mailman. Yep. Wilfred even turns to Jesus to find strength, well 'comfort,' in those tough times. Oh, and Bear, of course. "Suspicion" finds Ryan once again embroiled in family affairs, trying to convince his single-mom-sister Kristen (Dorian Brown) to let him be Godfather to baby Joffrey instead of their still unseen, Bond villain-esque father. In fact, each of the new episodes includes a great turn from a high-profile guest star or two (whose names I won't spoil) and the regular cast is at the top of their game even in their brief appearances. I can't wait to see what the new showrunners have in store for them, and more importantly Wood and Gann, for the rest of the season, especially now that we can't stop fretting about all the "Uncertainty."
That drawing though... Maybe Ryan and Wilfred are in purgatory.
Wilfred premieres Thursday, June 20 with back-to-back episodes starting at 10 p.m. ET on FX. The series stars Elijah Wood, Jason Gann, Fiona Gubelmann, Dorian Brown and Chris Klein.
Your Daily Blend of Entertainment News
Thank you for signing up to CinemaBlend. You will receive a verification email shortly.
There was a problem. Please refresh the page and try again.