William Shatner Is Headed To Syfy's Haven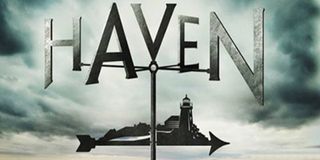 While there are obvious reasons to be excited for the second half of Haven's season to pick back up in 2015--no official word yet on the spring premiere date--the announcement of a new recurring character has got me itching for the second half of season 5. Haven has given us some awesome guest stars (Jason Priestley, anyone?), but I am particularly excited for their most recently announced guest star. Next year, the one and only William Shatner will become a recurring character on Haven. First an announced cameo in Star Trek 3 and now this? I'm not ashamed to admit how thrilled this news makes this weird Shatner fan.
While there's not a great deal of information on Shatner's character, or an official date of his character's introduction on the show, we know that Shatner will play a pivotal character who has the potential to change Haven and its residents forever. Super informative, I know. Still, it sounds like Shatner's character will certainly bring something incredibly exciting to the town of Haven. Right now Shatner slated for a four-episode arc, but these things can always subject to change. After all, Castiel was only supposed to be a minor character on CW's Supernatural before he formed his "profound bond" with Dean Winchester. So while there is no evidence that Shatner will exceed his four-episode arc, a girl can dream, can't she?
It's been quite a journey since we were first introduced to the town of Haven, Maine, and this season has been one of the craziest yet. Sadly, the mid-season finale of the Syfy Network show is inching ever closer. The finale will air on December 5 at 7pm ET/PT.
It looks like the last two episodes of the first half of Season 5 will be action-packed, setting the stage perfectly for Shatner's character to come in and shake things up. The November 28th episode will have Haven's heroes at odds with one another because of divided loyalties, and a terrifying revelation will change everything for the town's residents. After that, the show's December 5th mid-season final will finally reveal Mara's endgame, while Audrey and Nathan will pursue a plan to stop her once and for all.
Haven airs on the Syfy Network on Friday nights at 7pm ET/PT.
Your Daily Blend of Entertainment News
Thank you for signing up to CinemaBlend. You will receive a verification email shortly.
There was a problem. Please refresh the page and try again.