Barney The Purple Dinosaur's CGI Reboot Has Sparked All Kinds Of Reactions On Twitter
Barney's making a comeback.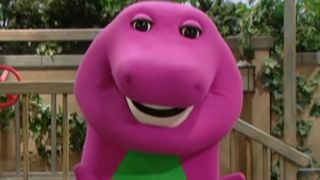 (Image credit: PBS)
Hollywood is flooded with reboots and offshoots at the moment, with seemingly everything from classic sitcoms to revered dramas being revamped or revived. Some children's shows aren't off the table either and, now one of the most iconic programs of all time, is even getting a makeover. Beloved purple dinosaur Barney is the latest to get a full reboot, and it's happening by way of a CGI animated series. A first look has been shared as well and, as you would expect, the reactions from Twitter users are all over the place.
Toy and entertainment brand Mattel is set to relaunch the Barney franchise by dropping new merchandise and content, according to Variety. This is all in addition to the live-action movie being produced by Daniel Kaluuya. Though what happens with that flick remains to be seen, social media already has strong thoughts on the upcoming cartoon. Believe it or not, one Twitter user is looking forward to it:
As someone whos first ever hyperfixation was Barney, I'm more than interested in how this show will turn out!Barney himself looks incredible! #Barney pic.twitter.com/428UsmN0fZFebruary 13, 2023
Others just seem to be in utter disbelief when it comes to the titular dinosaur's drastic new look. Check out this other reaction:
As you would imagine, there are plenty of jokes swirling around the impending reboot. Another fan took to Twitter to poke a bit of fun at the project and the franchise's legacy, before giving the CGI toon a compliment:
A barney animated series was NOT on my bingo cardbut aye another round of kids growing up to sing "I hate you, you hate me.."jk jk, He looks adorable! https://t.co/msSRM5K9zDFebruary 13, 2023
Elsewhere, some aren't being quite as optimistic. In fact, one particular streaming service seems to be proceeding with immense caution when it comes to checking out the project. The company in question is Peacock, which released a Barney documentary series that took a deep dive into the public's complex relationship with the fictional character. The streamer offered this playful response:
Cautiously looking at the new Barney after watching "I Love You, You Hate Me" on Peacock. pic.twitter.com/LxRSYwUoNOFebruary 13, 2023
There are still some similarities for the two versions of Barney, of course. However, one person would argue that the new iteration surpasses the OG in one respect:
Somehow SOMEHOW we made Barney more creepy than the actual costume pic.twitter.com/RfaHzOD9XaFebruary 13, 2023
It should be pointed out that this isn't the first time that Barney's gotten an update, as the costume that most people know is actually the second and most-used version of the dinosaur. Actor O'Shea Jackson Jr. humorously detailed the character's history in his own post:
We went from "Hey little mama I'm Bernard."To"Hello boys and girls I'm Barney"And now we at "Hi I'm Barry!" pic.twitter.com/cForyKQd6YFebruary 13, 2023
When hearing this news, it's hard not to make note of the various other reboots that we've seen over the past few years. One person compared this Barney to the newer versions of Rugrats, Clifford the Big Red Dog and more:
Man the Barney Bunch reboot is looking fire pic.twitter.com/11R9hS7XtWFebruary 13, 2023
Whether or not you were a fan of Barney as a kid, you likely still have some kind of memory of him, and that speaks to the IP's strength. I'd be lying if I said I'm not intrigued by this new reboot, but I do wish that the design were a bit different. Of course, many of us have to remember that this show is meant for a new generation of viewers and isn't geared toward us. Plus, Mattel is a smart brand, so the franchise is in good hands.
This new Barney show will launch in 2024 and kickstart a new direction for the franchise that will reportedly also include a lot of kid-friendly fare for viewers. Only time will tell if this show makes a dent in pop culture like the other did. (The OG series produced a decent crop of future stars, like future Disney kids Selena Gomez and Demi Lovato.) We'll just have to wait and see what lies ahead.
In the meantime, check out CinemaBlend's 2023 TV schedule for info on shows that are coming out this year. You can also grab a Peacock subscription to watch the I Love You, You Hate Me documentary.
Your Daily Blend of Entertainment News
Passionate writer. Obsessed with anything and everything entertainment, specifically movies and television. Can get easily attached to fictional characters.