Following Feud With Michael Jordan, Scottie Pippen Shares Honest Thoughts On Kevin Durant's Trade Request
By Erik Swann published
Scottie Pippen has another basketball take.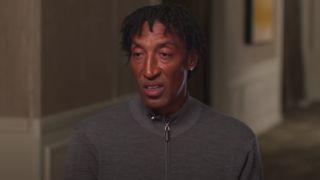 (Image credit: GQ)
Scottie Pippen has shared some brutally honest sports takes over the past several months, most of which played into his (one-sided) feud with former teammate Michael Jordan. Following the release of ESPN's The Last Dance, Pippen didn't mince words, accusing the sports legend of using the docuseries to make himself look good. He even asserted that Jordan "ruined" the game of basketball. The former small forward seems to stay in the know when it comes to what's going on in today's NBA and, on that note, he shared some honest thoughts when asked about Kevin Durant's recent trade request.
For those who don't know, Kevin Durant formally requested a trade from the Brooklyn Nets at the end of June. Said petition comes after he and his team were swept by the Boston Celtics in the first round of this year's NBA playoffs. Much has been said about Durant's recent move, with some criticizing the star for his desire to leave. This, of course, adds to an ongoing discussion regarding how much flexibility players have when it comes to moving around.
Scottie Pippen doesn't seem to have an issue with the two-time NBA champion's decision, though. The hall of famer chatted about the situation during an appearance on Sirius XM's NBA Radio and seemed to appreciate that the fact that the soon-to-be-ex-Net and other players have such freedom in this current basketball landscape:
Considering the position that Scottie Pippen found himself in while he played for the Chicago Bulls, one can see why he'd be so open to the move. Pippen signed a seven-year deal worth $18 million in 1991 but, had the star worked things a different way, he could've made much more. He ultimately opted to take the deal because it meant financial security for his family, though that financial figure became a source of contention as his star rose over those seven years. All of this, along with Pippen's strained relationship with former Bulls general manager Jerry Krause, was chronicled in ESPN's docuseries (which is streamable with a Netflix subscription).
It's somewhat refreshing to hear the legendary player share some positive thoughts after the stream of brutal comments he shared about Michael Jordan. Those sentiments even drew clapbacks from fellow legends like Charles Barkley. Even fellow Bull Dennis Rodman entered the chat, though he remained mostly diplomatic on the feud.
With the friction between Scottie Pippen and Michael Jordan apparently at an end (for now), basketball fans' eyes are on Kevin Durant. There's been plenty of speculation regarding where he might land, and it feels nearly impossible to nail down a single team. I'd think, however, that he'll work with the Nets to find a b-ball club that has potential and will put him in a leadership role. Should that be the case, Durant may not have to worry about further debates on whether he's ever been the true "bus driver" of a championship team.
Covering superheroes, sci-fi, comedy, and almost anything else in film and TV. I eat more pizza than the Teenage Mutant Ninja Turtles.
Your Daily Blend of Entertainment News
Thank you for signing up to CinemaBlend. You will receive a verification email shortly.
There was a problem. Please refresh the page and try again.