iZombie Pilot From Veronica Mars Writers Casts David Anders And 2 More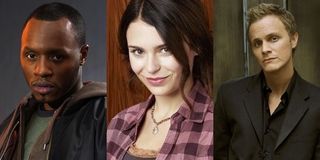 The cast for Rob Thomas and Diane Ruggiero's iZombie adaptation has begun to take shape, with three actors boarding the project, none of whom will be playing a zombie. Malcolm Goodwin, Alexandra Krosney and David Anders have boarded the pilot, two of whom are set to play friends of the lead character, and one who will pose some serious opposition. We'll give you one guess which of these guys is playing the bad guy...
Based on the DC comic iZombie, the CW pilot centers on a zombie named Liv -- heh -- a former med student who requires a steady diet of brains to maintain her humanity, which is why she takes a job at a coroner's office. The side-effect to eating brains is hearing disturbing voices in her head that give her the corpse's memories, which she eventually uses to help her medical examiner boss and police detective friend solve crimes. It's a supernatural crime procedural, and the mystery element should hopefully be a great fit for Veronica Mars' scribes Rob Thomas and Diane Ruggiero.
Deadline says Malcolm Goodwin has been cast to play the police detective. From what the site reports, Goodwin's character has just been promoted from vice to homicide, and he's in desperate need of making a case after a couple of months with no success. By that this desperation I'm guessing his frustration is what leads him to be willing to work with Liv, despite the source of her information, assuming he even knows where it's coming from. On the small screen, Goodwin may be best associated with his role as Shea Daniels in Breakout Kings. He's also lined up to appear in Fox's event series Wayward Pines. On the feature side, his credits include America Gangster, George Clooney's Leatherheads and the 2008 film Deception.
Meanwhile, those familiar with David Anders from his Alias days likely won't have any trouble picturing him as the villainous type. In iZombie, he'll play bad guy Blaine, "an entitled rich kid who bites off more than he can chew in the drug business." For a second, I wondered if maybe he's a zombie too, by the "bites off more..." part of that description, but it may just be a play on words. And granted, we're only talking pilot casting here, but I'm going to guess if this drama goes to series that Anders' role would be more of a bigger arc, by comparison to the bad guys Goodwin is trying to take down on a week to week basis to satisfy the procedural element. Either way, Anders is a great pick. You may recognize him as Sark from Alias, or much more recently as Troy Cutler in Necessary Roughness, John Gilbert in The Vampire Diaries and Dr. Whale/Victor Frankenstein in Once Upon a Time.
And last but not least, we have Alexandra Krosney, who's set to play Peyton, Liv's best friend and roommate. From the sound of it, she's not totally aware of what's going on with Liv, as she's described as "baffled by Liv's recent behavior" and apparently she feels like they're drifting apart. Krosney played Kristin Baxter in the first season of ABC's Last Man Standing, after which Amanda Fuller took over the role.
So it seems we have some notable supporting players, but where's the star? This could be a big role for some undiscovered talent out there, especially when we consider the direction of Kristen Bell's career after Veronica Mars. It'll be interesting to see who's brought in to lead this potential series. We'll keep you posted!
Kelly joined CinemaBlend as a freelance TV news writer in 2006 and went on to serve as the site's TV Editor before moving over to other roles on the site. At present, she's an Assistant Managing Editor who spends much of her time brainstorming and editing feature content on the site.
Your Daily Blend of Entertainment News
Thank you for signing up to CinemaBlend. You will receive a verification email shortly.
There was a problem. Please refresh the page and try again.