Magnum P.I.'s Back On TV Thanks To NBC. Jay Hernandez Has A Funny Take When Asked How Much Longer He'll Do The Show
Thomas Magnum is back, but for how long?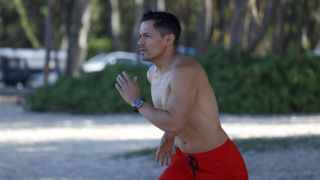 (Image credit: NBC)
Jay Hernandez has been portraying private investigator Thomas Magnum on Magnum P.I. since 2018, but it seemed like that journey was finished for good when CBS cancelled the series after four seasons last year. Luckily, NBC saved Magnum, and now Thomas and Co. are finally back on our screens. But how long will it last? Hernandez has a funny take about it.
When NBC saved the series, it was for 20 episodes, split into two seasons, and it's always possible that the network could pick it up for more seasons. While Jay Hernandez doesn't know how much longer Magnum P.I. will run, he did joke to People that he can only do it for so long, and by the time it's done, he may need help to get out of Magnum's iconic car:
Even Thomas Magnum won't be able to do all of his stunts (or get in and out of his iconic car) in old age! The good news is that Magnum P.I. only recently had its premiere on NBC, and he's far from geriatric in Season 5. In fact, he hasn't lost a step between the CBS cancellation and the show's return in the 2023 TV schedule. Hopefully it will continue to do well!
When Magnum P.I. was still in limbo, Jay Hernandez was part of the backroom conversations. Basically, he kept updated on the show's possibility of return, negotiations, and NBC saving the day, but he couldn't necessarily talk about it with his co-stars, no matter how excited or hopeful he was. Hernandez is very much attached to the series – and it sounds like he will love to do it for as long as he can – but Magnum just may not be in the thick of action in another 20 yeas or so, a la Olivia Benson on Law & Order: SVU!
Instead of thinking about Magnum's future ending, it might be better for viewers to think about its present. Fans of the series have finally been able to bask in the glow of Magnum and Higgins' love, which was definitely a long-awaited relationship. Plus, it's just good to see Magnum P.I. on TV again after thinking that it was officially done.
Hopefully, when the day comes for Magnum P.I. to end, there will be time for the writers to plan a full conclusion with closure. In the meantime, be sure to watch the series on Sundays at 9 p.m. EST on NBC so it continues to do well on the network, and there's at least a chance for more seasons. It also streams the next day with a Peacock subscription!
Your Daily Blend of Entertainment News
Passionate writer. Obsessed with anything and everything entertainment, specifically movies and television. Can get easily attached to fictional characters.