NCIS: Los Angeles Is Getting Two-Part Finale Event, And LL Cool J Keeps Having To Remind People It's Been On For 14 Years
CBS is giving NCIS: LA a big sendoff.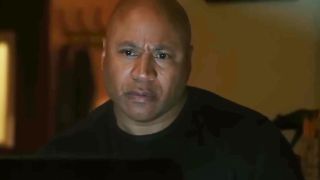 (Image credit: CBS)
The end is near for fans of NCIS: Los Angeles, as the NCIS spinoff series is set to end after 14 seasons in May. It was definitely a surprise when it was announced that the first spinoff in the long-running CBS franchise would be ending, however, LL Cool J has reminded us all that the show has been on for 14 years, and all series come to an end eventually. Luckily, the network is giving the show its flowers, and giving it an epic farewell as the series finale will be a special two-part event.
NCIS: LA Will End With A Two-Part Finale
CBS is giving NCIS: LA a big sendoff with two weeks' worth of a finale, and it's something you won't want to miss. The series will be getting a two-part finale, airing on May 14 and 21. According to the episode's synopsis, the team will be dealing with an ATF agent and military-grade weapons going missing as the Callanna wedding edges closer. I don't know about you, but that sounds like a great way to bid this show farewell to me.
The network will then air a special following the series finale. Entertainment Tonight's Kevin Frazier will host A Salute to NCIS: Los Angeles, a one-hour special that will feature interviews with the cast and behind-the-scenes footage from the ET vault. It's going to be three full hours of intense action and emotional moments as fans and the cast say goodbye.
LL Cool J Keeps Reminding Fans Just How Long NCIS: LA Has Been On
LL Cool J has portrayed NCIS Senior Special Agent Sam Hanna since the very beginning and called NCIS: LA an amazing run. The CBS procedural celebrated 300 episodes last year, and closing out the series after achieving a milestone number is a pretty big deal. While the end of the series was announced two months ago, it's still fresh on everyone's mind, and the rapper is constantly getting asked about it. So he does have to remind some that it has been on for 14 years and that in itself is a big accomplishment. Reflecting on the run with People, LL Cool J felt like the entire experience had been very rewarding, saying:
Having a show air for as long as NCIS: LA has is a massive deal, but it is hard to believe that such a staple show is coming to an end. Luckily LL Cool J is always here to remind us how lucky we are to have gotten 14 seasons. It will be strange to not see the LA team anymore, but with the lessons they've learned on the NCIS spinoff, I'm sure they have a very satisfying ending planned.
Even though NCIS: LA has been on for 14 years, they still manage to surprise audiences, and come up with stories and surprises we've never seen before. For example, all three current NCIS shows had a long-awaited crossover this year, and it happened just before it was announced that LA was ending -- it almost seemed like fate. And it really was a once-in-a-lifetime event.
With the finale inching closer and closer, there is still so much story to tell with not much time left. Along with the Callanna wedding, fans are also waiting on Hetty's highly-anticipated return, but the long wait will definitely be worth it. Of course, with a final season, there are always surprises in store, so there will a lot to look forward to as we inch closer to that two-part finale.
The first part of the NCIS: LA finale will air on Sunday, May 14 at 10 p.m. ET, while the second part and the Salute to NCIS: LA special will begin at 9 p.m. ET on Sunday, May 21 on CBS. All three will be available to watch live and on-demand with a Paramount+ subscription. Check out CinemaBlend's 2023 TV schedule to see what else to look forward to.
Your Daily Blend of Entertainment News
Passionate writer. Obsessed with anything and everything entertainment, specifically movies and television. Can get easily attached to fictional characters.