NCIS: Los Angeles Boss Sheds Light On How Hetty Storyline Will Be Resolved As Final Season Wraps Filming
What's going to happen to Hetty?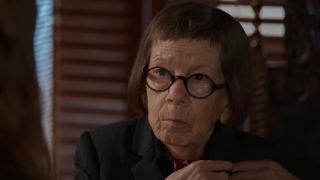 (Image credit: CBS)
The long-running (crossover-centric) NCIS franchise will be getting somewhat smaller very soon, as its first spin-off, NCIS: Los Angeles, is ending after its currently airing 14th season. CBS has promised a big send-off for the endearing cast of characters, and fans are hoping for answers to a number of long-held questions. Among the plot threads that they're mulling over is the fate of the long-absent Hetty. So how will things go down for the beloved operations manager? Well, showrunner R. Scott Gemmill is shedding some light on that.
Linda Hunt hasn't played Hetty for quite some time due to a being involved in a car accident in 2018 and later due to COVID safety measures put in place amid the pandemic. The character has appeared briefly over the last few seasons, with the writers establishing that she's in Syria for a special mission. R. Scott Gemmill gave Parade some good news in regard to whether the lingering storyline will be resolved at some point before the series ends, and fans are sure to be pleased by his comments:
A resolution to Hetty's Syria subplot has definitely been a long time coming and, with Callen and Anna's wedding approaching (and the show ending), it feels like the right time to bring her back into the fold. NCIS: LA fans know how close Callen and Hetty are, and the former would not want to get married without his mother-like figure there. R. Scott Gemmill previously stated that barring any kind of COVID surge, the plan was for the team to find Hetty and possibly pull her out of a dangerous situation. Gemmill unsurprisingly didn't go into detail this time around, but he seems incredibly confident that audiences will appreciate what's being planned.
Honestly, the show just hasn't been the same without Hetty, and it's been tough on the characters. On top of the impending Callanna wedding, Deeks and Kensi have also been through a major life change without her, as they became parents. With thata, they had to proceed with their plans without Hetty's sage advice. I'm curious as to how the character will react to all of the changes that have occurred in her absence.
As of right now, there's no telling when the heroine will return or how the series will segue into her story. It's possible that it'll all come into play during the series finale, and man, would that be a fitting story to close out the series with. Yet I'm hoping it happens a bit sooner than that so that Lange can show up in several of the remaining episodes.
There are still plenty of stories to tell with so little time left, and one can't help but wish we had more time with Hetty and her colleagues. But Daniela Ruah admitted it's time to step away from Kensi Blye, and her co-stars seem ready to move on as well. It's going to be hard to say goodbye, but the send-off will be pretty sweet if it does indeed feature Linda Hunt as her fan-favorite character.
New episodes of NCIS: Los Angeles air Sundays at 10 p.m. EST on CBS as part of the 2023 TV schedule. Catch up on Season 14 now using a Paramount+ subscription!
Your Daily Blend of Entertainment News
Passionate writer. Obsessed with anything and everything entertainment, specifically movies and television. Can get easily attached to fictional characters.