The Last Of Us Creator Explains The Practicalities Of Living During A Zombie Apocalypse, And Fans Are Applauding The Series For Showing It
Periods are still something people have to deal with during the apocalypse.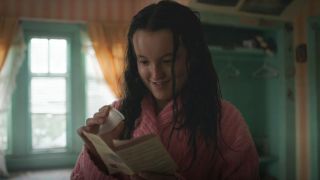 (Image credit: HBO)
Dealing with your period, whether you want to or not, is something every woman goes through every month, and it won't stop for anything, including the zombie apocalypse. The Last of Us realized this consistent thing women have to deal with, and considering one of the leaders of TLOU cast is a 14-year-old girl the show decided to address the practicalities of living with a menstrual cycle during the apocalypse, and it was amazing. While the creator of the show explained why they decided to show Ellie's journey through puberty, fans are applauding the video game adaptation's choice to show her practically dealing with her period.
The series creator Craig Mazin realized when trying to buy tampons for his wife and daughter during the pandemic that this was something Ellie would also be thinking about in The Last of Us. That is why he decided to include it in the series. He told Vulture:
In the show we see Ellie find a box of tampons early on, and get really excited about it. Then in Episode 6, she received a diva cup, which will make her life a million times easier, because she won't have to worry about finding pads or tampons on the road. Mazin spoke about the use of the menstrual cup in the series, saying:
This decision to show Ellie's menstrual cup has been praised in a way similar to how fans have positively reacted to Bill and Franks' relationship as well as changes the show made from the game. This included people like Aiko who tweeted about how much she loved the show's decision to include how to handle a period during the end times.
In response to that tweet, alyssa posted about how much she loved the use of the diva cup, which is a sustainable and reusable option, writing:
It wasn't just women praising The Last of Us addressing periods on the show, as Kevin tweeted:
Shura also noted how much she appreciated seeing the diva cup on screen, writing:
As a woman myself, this is one of the first times I've ever seen periods shown on screen in a way that's not taboo or treated like something that shouldn't be spoken about. The reality is, half the population deals with their time of the month on a regular basis, and talking about it shouldn't be a weird thing. So seeing The Last of Us casually talk about a woman's cycle was refreshing and empowering.
Along with depicting periods in a casual way, the series is also showing other important and underrepresented parts of life. With a few episodes left, and Season 2 on the way, we'll hopefully get to see more of these moments that show how groundbreaking and representative this series is.
Be sure to tune into the 2023 TV schedule phenomenon this Sunday at 9 p.m. ET on HBO or with an HBO Max subscription so you can see Storm Reid enter the cast for Riley and Ellie's episode as well as witness all the ways The Last of Us is killing the game when it comes to female representation.
Your Daily Blend of Entertainment News
Riley Utley is a Weekend Editor at CinemaBlend. She spent many years working in local journalism across the country writing about art, news and sports. One of her favorite films is When Harry Met Sally and she walks around constantly quoting Ted Lasso.