The Last Of Us' Joel Vs. The Mandalorian's Din: Who Is The Better Reluctant Father Figure?
Both were thrust into the job, but how are they doing?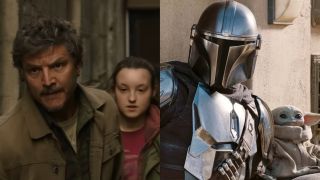 (Image credit: HBO/Disney+)
Pedro Pascal is quietly becoming America's favorite TV dad, even if his two most notable parental roles so far feature him raising children who aren't biologically his. Both Din Djarin in The Mandalorian and Joel from The Last of Us were saddled with kids they didn't ask for and are trying to navigate raising them and keeping them safe in very stressful situations. Can we really judge either and declare one the best reluctant father?
We absolutely can, even with the admittedly small sample size we've seen in The Last of Us thus far and the ways it has deviated from the game. For this exercise, I decided to measure each character on the attributes I think make for a good father, especially in the dangerous worlds these two live in. Let's break it down and crown a winner for each category.
The Better Protector: Joel
This one feels a bit unfair because, as I mentioned above, we have a smaller sample size to examine with Joel in The Last of Us. Even so, I have to give this one to him. Joel has shown in a relatively short amount of time that he's well-versed in what it takes to survive on the outskirts of civilization. While there have been some hairy situations, he's done a pretty solid job of keeping Ellie safe.
Din has had to rescue Grogu from being kidnapped, which feels like an obvious reason to make him the loser of this round. Granted, Din is up against the might of the former Empire, and Grogu is a high-value target. None of that is really Din's fault, but one would think he'd be just a bit more careful with who he trusted, given he knew all of that when Grogu was first taken away from him.
The More Patient One: Din
Din Djarin is a lean, mean, Beskar-coated killing machine, but one thing I've always noticed is the patience he's had with Grogu. Sometimes it's allowing him to go and hang out with children or it's giving him the shiny silver ball from his ship's console. Din is always aware that Grogu is a child and needs some way to break up all the tension between their perilous missions on The Mandalorian.
It's clear that Joel has been through some things between the first episode of The Last of Us and where the show is in the present timeline. He's a master at navigating the dangerous world of being a smuggler, but that expertise comes with some baggage. His knowledge of the risks of the profession, paired with the previous loss of his daughter, certainly impacts the level of patience he's had with Ellie. Joel could stand to be a bit friendlier and more understanding, though he does have his moments of kindness and levity.
The Better Teacher: Joel
Joel may not have the patience for Ellie's antics at times, though he has balanced that out by making sure she's as prepared as she can possibly be for bad situations. When he found out she smuggled a gun out of Bill and Frank's home, he didn't immediately take it from her to keep and insist on never letting her handle it again. Instead, he observed her technique and instructed her to keep the gun in her bag rather than her pants. The Last of Us is a dangerous world, but Joel is making sure Ellie is ready for whatever troubles might come their way.
Din is more than capable of handling an entire gang of enemies on his own, and perhaps that's why The Mandalorian lead has never really bothered much to teach Grogu self-defense. Granted, Din is pretty ignorant of the Force, so he wouldn't be able to impart any knowledge on his little friend in that regard. Thankfully, Grogu received some training from Luke Skywalker to balance some of that, so he might be better able to handle enemies should they come after him in Season 3.
The Better Role Model: Din
Being a bounty hunter can be a dicey profession. When The Mandalorian started, Din went where the money was, and it wasn't until he met Grogu that he really changed his stance on that. Since then, however, he's been a force for good and an excellent example of the type of person that Grogu should work to become. If Grogu grows up to be even half as noble as Din, he'll be a great ally to righteous people in the Star Wars galaxy.
I wouldn't say Joel is a terrible role model to Ellie by any means, though thus far, most of what he's done is self-serving. He only agreed to smuggle Ellie out of the quarantine zone because he needed a car battery, and Tess encouraged him to. Even now that Tess is gone and they have the car battery, they're still headed to Wyoming to find Tommy rather than delivering Ellie to people who may be able to develop a cure for the horrifying Cordyceps virus. He's not perfect, but he has time to redeem himself.
Showing Love: Din
Hear Me Out: How The Mandalorian Season 3 Can Set Up Grogu As The Anti-Darth Vader
I think one of the most heartwarming moments of this new era of Star Wars came from The Book of Boba Fett when Din realized Grogu had returned from his training in the midst of a getaway. Din was wearing his mask, but I could tell by the tone of his voice that he was happy and excited to see his little buddy again. It's hilarious in the context of the situation, but it really does show how much he cares for the kid and will go to any length to protect him.
Joel and Ellie haven't known each other long enough to have any sort of massive bond as strong as love. I'd even argue that Joel intentionally distances himself from trying to care too much about Ellie because he's still dealing with the tragic death of his daughter decades prior. It's not a knock against Joel, but if we're just stating facts, Din is the more caring guardian between the two.
If we're basing things solely on these metrics stated above, I'm crowning Din Djarin of The Mandalorian as the definitive reluctant father. There's still plenty of time for Joel to make a comeback and take the title, though, so we'll just have to keep tuning in to watch The Last of Us with our HBO Max subscriptions in the meantime to see if he makes a stronger case in future episodes.
The Last Of Us airs on HBO and HBO Max on Sundays beginning at 9:00 p.m. ET. The Mandalorian Season 3 kicks off on Disney+ (opens in new tab) beginning on Wednesday, March 1st. Tune into both to see Pedro Pascal as America's definitive dad of science-fiction stories, even if he's a reluctant about it to start.
Your Daily Blend of Entertainment News
Mick likes good television, but also reality television. He grew up on Star Wars, DC, Marvel, and pro wrestling and loves to discuss and dissect most of it. He's been writing online for over a decade and never dreamed he'd be in the position he is today.