9's Mission Begins On December 29th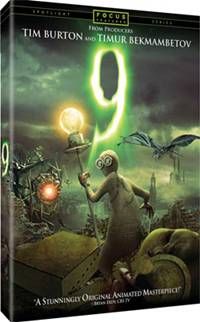 Shane Acker's animated film 9 blew audiences away on the big screen. Imagine how gorgeous it'll look on Blu-ray. Well, soon you won't have to imagine, because on December 29th, Universal Home Video will release 9 on DVD and Blu-ray.
9 tells the story of a group of ragdolls trying to survive in a post-apocalyptic world. The team consists of the leader 1 (Christopher Plummer), the inventor 2 (Martin Landau), the constantly cataloging 3 and 4, the mechanic 5 (John C. Reilly), the unconventionally artistic 6 (Crispin Glover), the fearless 7 (Jennifer Connelly), and the powerhouse 8 (Fred Tatasciore). When they're united with their newest and most advanced member, 9 (Elijah Wood), he rattles their routine and leads them on a journey that could keep the legacy of civilization alive.
The uninspiring story may not compare to the stunning animation, but 9 is still a wildly entertaining film. No word on price yet, but no matter how much more the BD will cost as compared to the DVD, I'd advise going with the former. 9 is not a movie to miss in the clarity of Blu-ray hi-def.
On the bonus-material front, the BD doesn't offer much more than the DVD version. Both will come with deleted scenes, "9 – The Long and Short of It," "The Look of 9," "Acting Out," and feature commentary with writer/director Shane Acker, animation director Joe Ksander, head of story Ryan O'Loughlin and editor Nick Kenwa. Most prominently, the DVD and BD will have Acker's original short the film is based on. Exclusive to the BD will be "On Tour with Shane Acker" and access to BD-Live.
Your Daily Blend of Entertainment News
Staff Writer for CinemaBlend.