Celebrate Elizabeth Berkley's Career With A 15th Anniversary Showgirls Blu-Ray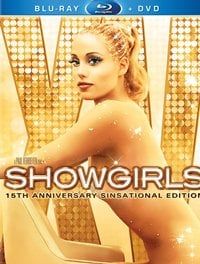 Ah, Showgirls. Has there ever been a sadder attempt by a young actress to distance herself from the wholesome role that otherwise defined her? Sure, getting your kit off is a time-honored tradition for actresses hoping to prove that they're "serious" about their "craft," but you should probably at least read the script first. Wait, was there actually a script? Take notes from Anne Hathaway: if you're going to have a Havoc on your resume, make sure you're in an Academy Award-winning movie that same year.
Still, Elizabeth Berkley's loss is our gain, because Paul Verhoven's Showgirls is one of the most enjoyably horrible movies ever produced. This is a movie with no aspirations to be anything more than it is. This is a movie where Berkley and Kyle MacLachlan engage in one of the funniest sex scenes ever put to film, flopping around in a swimming pool surrounded by dolphin fountains and neon palm trees. This is a movie that includes amongst its special features an instructional lap dance tutorial. This, ladies and gentlemen, is Showgirls (15th Anniversary Sinsational Edition), available June 15th. Don't forget to tip your dancer.
Special Features
Pole Dancing: Finding Your Inner Stripper
Lap Dance Tutorial Featuring the World-Famous Girls of Scores
"The Greatest Movie Ever Made" -- A Commentary by David Schmader
Showgirls Fact-Up Trivia
A Showgirls Diary
Image 1 of 5
Image 2 of 5
Image 3 of 5
Image 4 of 5
Image 5 of 5
Your Daily Blend of Entertainment News
Thank you for signing up to CinemaBlend. You will receive a verification email shortly.
There was a problem. Please refresh the page and try again.