Clip Barrage: Thelma & Louise Celebrate 20th Anniversary On Blu-Ray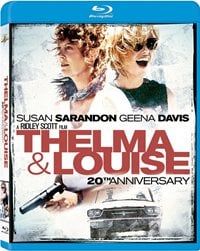 If you're looking for girl power, young Brad Pitt, and a cross-country crime spree, all wrapped up in a Butch & Sundance-esque ending, MGM Home Entertainment has got just the thing. They have released a 20th anniversary edition of Thelma & Louise on Blu-ray, complete with a ton of bonus features. You'll get two commentaries (one with director Ridley Scott, one with Susan Sarandon, Geena Davis, and screenwriter Callie Khouri), deleted scenes, an extended ending with commentary, several featurettes, storyboards, and even a music video.
To commemorate the release, MGM has sent along three clips from the film, Check them out below for a pre-pubescent Brad Pitt, a distraught Louise, and a little hard drinkin'. Thelma & Louise (20th Anniversary) is available now.
Your Daily Blend of Entertainment News
Thank you for signing up to CinemaBlend. You will receive a verification email shortly.
There was a problem. Please refresh the page and try again.