Fans Were Touched By Daemon's Kind Gesture On House Of The Dragon, Turns Out Matt Smith Improvised It
It was likely the most touching moment of the tragic episode.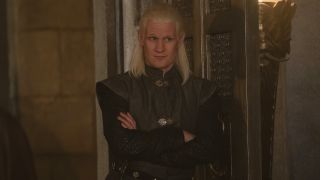 (Image credit: Photograph by Ollie Upton / HBO)
Spoilers for Episode 8 of House of the Dragon ahead, read with caution.
Episode 8 of House of the Dragon was tragic. Since the beginning of the show we've been seeing the decline of King Viserys' health, and it's gotten so bad in the last few episodes it seemed like he could die at any moment. Well, he did die at the end of the latest episode, and watching the king struggle to function was terribly sad, especially as he tried to walk up to the Iron Throne. It was at this moment that we saw Viserys' brother Daemon have a moment of kindness as he helped his brother get up to the throne. Following that moment it was revealed that Matt Smith actually improvised it, and fans were loving the prince even more after this rare act of kindness from the prince.
To add some more detail to the scene, the king struggles to get up the stairs to the throne, and when his crown falls off his head, his brother comes to help him get his crown and sit on the throne. It was a rare sight of sympathy from Daemon, and it turns out it was Matt Smith's idea to pick up the crown.
It Turns Out Matt Smith Improvised Daemon's Actions After An Accident During Rehearsal
Even though Daemon is brutal, I mean he literally chopped Vaemond Velaryon's head in half, it's clear that he cares a lot for Rhaenyra and his brother Viserys. In an interview with EW Geeta Patel, the director of the episode, explained that this scene between the two brothers with the crown was not in the script, it was an accident during rehearsal that led Smith to improvise.
It really is a beautiful and touching moment. Especially since Daemon seemed to resent his brother for a good bit of the season. Smith has explained that you never really know if Daemon is "in pursuit of good things" or trying to "cause chaos," or as if it's a "bit of both." In this throne room scene we saw both sides, and with the king a true moment of good, as Patel explained:
This moment of care was felt by the fans, who had some amazing reactions to Daemon and Viserys' scene.
Fans Were So Touched By Daemon's Kind Actions Toward His Brother
While a lot of the social media conversation surrounding Episode 8 was about Viserys' eye situation, and Daemon's not-so-kind moment with Vaemond, many were also posting about the kinder moment. Especially once they learned it was Smith's idea, like this viewer:
Another fan took note of all of Daemon's big moments in the episode, and I couldn't agree more. Daemon is "THE moment."
I think this fan encapsulated a lot of our feelings when Daemon picked up the crown to put it back on his brother's head:
Just to make you even more emotional over this whole situation, this fan pointed out that this was the brothers' last moment together, and could be Viserys' last memory of Daemon.
Meanwhile, this fan created a great meme, that's also kind of wholesome. I think the single tear is something just about everyone watching could relate to.
To close it out, this fan pointed out that Daemon was one of the only characters who wasn't completely focused on politics in this episode. He showed his care for his brother and wife, rather than acting out of a need for power.
I'm curious to see what Daemon does in the last few episodes of House of the Dragon. He's for sure one of the more unpredictable characters on the show. Even though he's brutal and devious, it's clear he still cares for his family.
According to the Fall TV schedule, we are nearing the end of Season 1 of HOTD and it will be curious to see what Daemon does next. To watch the rest of the Targaryen family drama unfold you can tune into House of the Dragon every Sunday at 9 p.m. on HBO or with an HBO Max subscription.
Riley Utley is a Weekend Editor at CinemaBlend. She spent many years working in local journalism across the country writing about art, news and sports. One of her favorite films is When Harry Met Sally and she walks around constantly quoting Ted Lasso.
Your Daily Blend of Entertainment News
Thank you for signing up to CinemaBlend. You will receive a verification email shortly.
There was a problem. Please refresh the page and try again.