You Can Get The Fallout 4 Soundtrack On Vinyl Now, Check It Out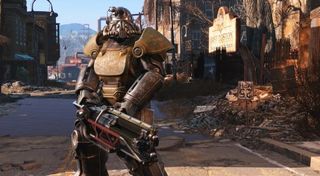 (Image credit: Bethesda Software)
Bethesda Software's Fallout series has become known for its retro-futuristic soundtracks, themed after the ragtime tunes of the 1940s and the crooning sounds of the 1950s, but there's also a somber score that plays throughout the game beyond the pop tunes on the radio. And now you'll be able to get your hands on a six volume vinyl LP bundle featuring the original music from Fallout 4.
According to Gamespot, Bethesda wants to give gamers an opportunity to relive the sounds of the wasteland through the LPs featuring music from composer Inon Zur. The package contains 65 different songs composed by Zur and will be available starting July 1st. Pre-orders are currently open right now and the OST is not a cheap buy. Gamers and music aficionados wanting to get in on the bundle will need to spend around $126.
Over on the official Bethesda Store they mention that the six LPs will come in three full color gatefold jackets and that they have a board-stock slipcover. The collection is designed to make it look as if it's a classic bundle of LPs that come right out of the retro era. It's most certainly fitting for the most avid fans of Fallout.
The 64-track package contains more than 3.5 hours of music and Bethesda is limiting the bundle to only 3,000 copies. So if you really want to get your hands on one you'll likely have to pre-order now and pre-order fast because I can easily imagine this soundtrack selling out extremely fast.
The only thing I'm curious about is if some of the other pop songs, ballads and ragtime tunes will also make the cut? They only mention that the 64-track bundle will feature music from Inon Zur, but they don't mention anything about the contributions made to Fallout 4 by artist and actress Lynda Carter, who lent her voice to several tracks in the game, as well as making an appearance as an in-game character.
It would have been nice if they detailed the tracks on the Bethesda store page, but I assume they think that most people will just want to get their hands on the Fallout 4 soundtrack at all cost, especially in the limited LP box set, so they likely won't be too concerned if certain tracks make the cut or not.
This announcement comes just ahead of Bethesda huge E3 week. There are lots of rumors surrounding what the company has planned to showcase this upcoming Sunday during their second annual E3 press conference. A lot of gamers are expecting news on the rumored sequel to The Evil Within along with the vaporware title Prey 2. However, there are still millions of gamers out there who are looking forward to news about Fallout 4 and whatever Bethesda has planned for the future of the series.
The game's latest DLC was called Far Harbor and it seemed to wrap up another chapter in the game's story, but there is already talk that Far Harbor wasn't the final piece of DLC for Fallout 4. I guess we'll find out this Sunday on June 12th. As for those of you who want to get your hands on the OST LP, it would be best to hurry to the Bethesda Store before they're all gone.
Your Daily Blend of Entertainment News
Staff Writer at CinemaBlend.