This Is What Overwatch Would Look Like As Anime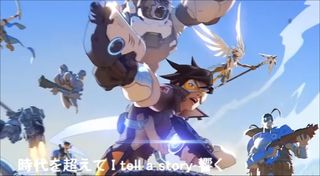 Blizzard Entertainment's first-person shooter, Overwatch, has been a huge success for the company, and gamers and machinima makers the world around have been having a field day with the characters and themes, including one creative gamer managing give Overwatch an anime intro.
Game Informer picked up the video from YouTuber inkling inkling, where they made the minute and a half intro themed after the way the Japanese do their cartoons. It takes various clips from the game, clips from the cinematic trailers, and clips from the Overwatch short films and combines them together using filters and neat transition tricks.
The intro machinima is really well done, with English subtitles and Japanese credits sprinkled throughout to give the whole thing that classic anime feel. This is further enhanced with Nano's pop song "Savior of Song", the theme that's played throughout the machinima above.
The way the clips are cut together it really does make Overwatch look like a traditional 3D anime. According to Game Informer this is only the first part of a two part anime machinima for Blizzard's popular shooter, and many anime fans and gamers are looking forward to that second part.
The clips don't really represent the gameplay of Overwatch that well at all. You can't do all those flips and fancy fighting techniques as showcased in the video above. You can shoot, jump and perform basic melee attacks, but it's not like it's highlight reel worthy.
It's kind of a shame that Blizzard has been cracking down on the SFM models for Overwatch because machinima makers could have used them to help with the anime look and feel of creating machinima for the game. Despite the fact that Blizzard has hit it big with Overwatch and the game has already become a pop-culture phenomenon, they've also been very stern in how their characters and assets are used in the machinima community.
Specifically, Blizzard has been cracking down on the porn sector where a lot of artists, modelers and animators have been using the Overwatch assets to make their own naughty films. Sadly, it also means that many of the standard models are being pulled out of circulation.
Nevertheless, some creative individuals are still finding ways to make content and get up and out for Overwatch even without having direct access to some of the assets. As inkling inkling has showcased with the video above, sometimes all it takes is a catchy pop song, some cool transitional filters and a few exciting clips from existing trailers to make something truly worthwhile.
The second part of the machinima will focus on the credits and ending, so we'll see what inkling inkling comes up with for that. There's no ETA on when we can expect it to arrive but given how quickly the "intro" has gone up, I'm guessing it will be sooner rather than later.
Overwatch is available right now for the PS4, PC and the Xbox One both at retail outlets and via digital distribution.
Staff Writer at CinemaBlend.
Your Daily Blend of Entertainment News
Thank you for signing up to CinemaBlend. You will receive a verification email shortly.
There was a problem. Please refresh the page and try again.