When You Can Play The Next Just Dance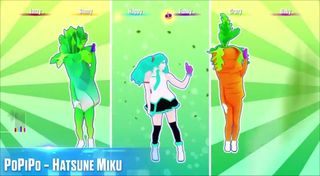 (Image credit: Ubisoft)
Ubisoft announced that they have a brand new Just Dance 2017 game in the works, and they have plans on putting out Just Dance in October for the home consoles and PC, including the Nintendo NX. The game will feature all new songs, new artists and new graphics.
According to Game Informer, Ubisoft will be releasing Just Dance 2017 first for the Xbox 360, Xbox One, Wii, Wii U, PS3, PS4, and PC this October, but starting in 2017 they will also be releasing the new Just Dance on the Nintendo NX.
Just Dance 2017 will feature 40 different songs by a wide range of artists, both recognized and indie, including songs like "Sorry" from Justin Beiber, "PoPiPo" from the vocaloid artist Hatsune Miku, and classics like "Don't Stop Now" from Queen are making the cut. There's an eclectic mix of songs and artists that Ubisoft have plans on including when the game launches this fall.
If you tuned into the Ubisoft E3 conference you probably saw the French dance troupe performing a routine based on Queen's "Don't Stop Now". It was an over-the-top performance, but it gave the audience a rather strong idea of what to expect from the upcoming dancing title.
According to the Ubisoft blog, Just Dance 2017 _will also feature returning modes and options from previous games, including the Just Dance Unlimited on-demand service that grants gamers access to more than 200 tracks, along with special playlists and the return of the fitness mode so that gamers can get in shape while they dance to their favorite tunes. Ubisoft is also included a Dance Quest challenge mode where players can take on players from around the world. They've also included an updated controller app for improved precision and input-latency. You can get a taste of it with the trailer below that aired during E3.
The control scheme will also afford players to play six-player game modes using a mixture of game controllers, camera sensors and smartphones. This newest Just Dance will also still support the Kinect and the PlayStation Move through the PlayStation Camera.
This is a huge bit of news because at least we're already starting to find out that the Nintendo NX will have some sort of support at launch. That was one of the big worries for the NX, especially given that the Wii U had a lot of its third-party support thinned out over the years after it launched in 2012. So Ubisoft is showing that while they may have given up on the Wii U, they are willing to give the NX a chance... at launch, at least.
They don't specify what kind of control support will be offered for the Nintendo NX, but some are speculating it could be a mix of smartphones and Wii-motes. We can't know for sure until Nintendo reveals more details about the NX's control scheme, but no matter what it uses it sounds like Ubisoft will have it covered. Just Dance 2017 is due to drop in October and will launch in 2017 for the Nintendo NX.
Staff Writer at CinemaBlend.
Your Daily Blend of Entertainment News
Thank you for signing up to CinemaBlend. You will receive a verification email shortly.
There was a problem. Please refresh the page and try again.