Could Nintendo's NX Console Be A Virtual Reality Device?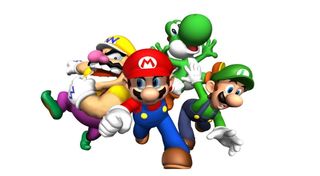 Some reports are going around questioning Nintendo's foray into the next generation of gaming, as they attempt to jump-start the ninth generation of gaming early with the Nintendo NX, assuming it's actually a console. One of the theories is that it could be a low fidelity VR/AR/HMD compatible device.
VG247 points to an article by Digi-Capital that attempts to remove variables that Nintendo have denied or pointed out wouldn't be their direction for the Nintendo NX, and they've focused on creating a bullet list educing the possibilities of the NX.
It's all longshot territory, but Digi-Capital asserts that the Nintendo NX could be a low-cost venture featuring technology compatible with today's mobile market but with a controller made for casual gamers and a head-mounted display for augmented reality and virtual reality gaming.
There's just one problem with this theory: Nintendo has already exhausted many of their biggest franchises just recently for the Wii U, and they're going to be a ways off before a sequel for Super Mario, Mario Kart, Star Fox, Super Smash Bros, Donkey Kong or Zelda comes around, notwithstanding the latest Legend of Zelda game due out for the Wii U in 2016. The only thing they could have for launch for the NX is a Super Metroid and F-Zero game.
Another console without proper software support could see them end up dead in the water like the Wii U, which suffered from the two-pronged death knell of not having enough first-party (or exclusive) software support at launch and having a silly name.
In the case of the NX, Digi-Capital accedes that Nintendo isn't really fond of the current VR direction and that they're exploring the "blue ocean" strategy of tapping into ways of experience games that other companies aren't pursuing. This is similar to their innovation with the Nintendo 3DS, the original Wii, or when they introduced analog-stick gameplay with the N64. That's not to mention they already failed once in the VR division with the Virtual Boy.
Some theories going around have suggested that perhaps the Nintendo NX is actually a mobile phone. It wouldn't be too crazy, especially if it did have support for running Android apps, but was proprietary Nintendo tech. It's not too out of the wild given that Nintendo has yet to confirm that the NX is actually a console and they do have a standing collaboration with mobile corporation DeNA. This has left a lot of people puzzled and confused over the direction of the device.
Others have taken Digi-Capital's perspective – that the NX is a hybrid console and mobile device that works a conduit between games that can be played on the Wii U and games that you can find on your tablet and smartphone. You could say it might be likened to Valve's Steam Link, which can stream games from your Steam library to any HDMI compatible device.
Realistically, the NX could be a device that allows you to play Nintendo games, exclusively, and mobile games and apps from open-source platforms, even though they did announce that the device won't be powered by an Android OS. It would definitely bridge that gap between mobile gaming and Nintendo's own ecosystem of high-quality titles. It would also force people to adapt to more Nintendo hardware in order to get their mobile games. Having the Android software option available would also keep the library expansive and get around the issue of having a thin launch line-up.
However, we won't know for sure what's in store until 2016, where Nintendo has stated that they will reveal more details about the very mysterious NX.
Staff Writer at CinemaBlend.
Your Daily Blend of Entertainment News
Thank you for signing up to CinemaBlend. You will receive a verification email shortly.
There was a problem. Please refresh the page and try again.