When The Steam Summer Sale Is Officially Happening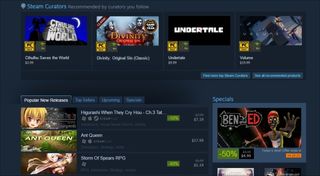 (Image credit: Valve)
Paypal UK took the liberty of leaking the official start date for the Steam Summer Sale. Yes, Paypal. The monetary institution's purposeful leak has set the PC gaming community ablaze as gamers are now putting money aside for the big annual Summer Sale.
Gamerant caught wind of the news when PayPal UK made the tweet, stating that the Steam Summer Sale starts June 23rd, 2016. This is actually the second confirmation following a leak from a Reddit user named MrFreemanBBQ who exposed a letter that was marked "confidential", which revealed that the Steam Summer Sale would run from June 23rd through July 4th. Yep, it wraps up on Independence Day, giving gamers the opportunity to play through all their goodies that they picked up through the end of this month.
Of course, since this is leaked info we don't have any official word from Valve on the actual start times of the Seam Summer Sale, nor what sort of changes they're making to the formula. As pointed out in the Gamerant article, last year Valve removed the Flash Sales, which was a limited time sale on a game that lasted half an hour to an hour (or in some cases six to eight hours) and offered gamers a really deep discount on the game. Some people have speculated that the Flash Sales had to go away during the seasonal Steam sales because of Valve having to adopt the refund policy.
If gamers could see that a game they recently purchased was available during the Flash Sale, then they could refund the game and then buy it during the Flash Sale. The speculation on why this particular sales method had to be retired doesn't seem far off from the truth.
Valve had to end up putting refunds in place after losing a lawsuit against the ACCC, an Australian consumer protection organization. They argued that Valve needed refunds in place for those who purchased digital goods. Some tried arguing against a refund policy because they claimed that they were digital goods and didn't de-value over time, but at the end of the day the court saw it in the favor of the ACCC and had Valve institute a refund policy into Steam.
It came at an opportune time when a lot of gamers happened upon games like Batman: Arkham Knight, which was launched broken on PC by Warner Bros. The game stayed broken and nearly unplayable for a lot of gamers throughout all of 2015. The state of that game's release ended up seeing Warner Bros., offering refunds to gamers from June up to and through the winter. Since then Warner Bros. has opted not to release their newer Batman titles, Mortal Kombat or Injustice 2 on PC, so don't look for the newer Warner Bros., games to launch and get any deep discounts on Steam during the seasonal sales.
What games can you expect to get discounts? Well, there are a ton of games in Early Access, but a lot of people frown on them when they're discounted during the sales. There are also newer games or titles that released last year that are likely to get slashed quite significantly, including GTA V, Mad Max and Elite: Dangerous.
We won't have to wait long to see what gets discounted since the Steam Summer Sale will supposedly get underway starting June 23rd, next week.
Staff Writer at CinemaBlend.