Steam Summer Sale 2015 Dates Leaked?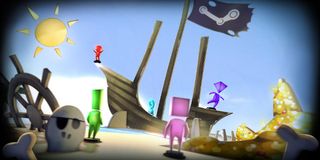 If you're planning to make a big purchase on Steam, you may want to hold off for now. The Steam Summer Sale 2015 will be starting in a few days according to a leak.
The official Steam community page on Russian social network VK says that the Steam Summer Sale will kick off on Thursday, June 11th at 20:00 Moscow Time, or 1 PM Eastern. They say it will run until the same time on June 22nd. An "Encore Sale" starting on June 20th will feature discounts from all the companies that offered deals in earlier days.
Generally, when there's a leak like this by some secondary website, someone quickly pulls down the information in question after it gets widespread media attention. That hasn't happened in this case, though.
This wouldn't be the first time a Steam sale's details were leaked prior to launch. In fact, there's a long tradition of that happening. Electronic payment site Paysafecard revealed last year's Steam Summer Sale dates before Valve could announce them. A PayPal email then spoiled the surprise for the Fall Sale. Back in 2013, the Fall Sale's dates were outed by a Reddit tipster.
You'd think that after all those leaks, Valve would learn to be more cautious with this information. It's hard for them to keep a lid on such a huge event for a storefront of that size, though, given all of the company's partners throughout the world. All it takes is one person to leak all of the important details to the world.
During Steam Summer Sales, customers are offered a series of 8-hour and 24-hour discounts. They're also able to vote on upcoming deals as well. These short-term discounts are supplemented by publisher-wide and franchise-wide deals that last the entire event. Steam users can also earn an exclusive set of trading cards by purchasing games and voting on the next deal. These cards can then be redeemed for emoticons, profile backgrounds and coupons.
The 2014 Steam Summer Sale introduced a new wrinkle called Summer Adventure. Each day, Steam users joined one of five teams. Each team then tried to collect as many cards and badges as possible. At the end of the day, 30 members of the winning team were given 3 games off their Wishlist. Participants also received bonus trading cards for their collection. It's unclear whether the Adventure will return this year but I'd guess so considering it's a relatively cheap and easy way to keep gamers engaged with the store.
This poll is no longer available.
Your Daily Blend of Entertainment News
Staff Writer at CinemaBlend.
Your Daily Blend of Entertainment News
Thank you for signing up to CinemaBlend. You will receive a verification email shortly.
There was a problem. Please refresh the page and try again.