Watching A Dude Try Virtual Reality Porn Is The Weirdest Thing You'll See All Day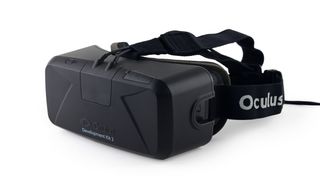 A virtual reality demonstration featuring a guy with a plastic doll, what appears to be a devkit version of the Oculus Rift and a 3D video game with an anime character on it is making its way around the web courtesy of an adult convention taking place in Japan. The video is definitely Not Safe For Work. You can check it out below.
A YouTube channel called Naughty Gaming (which is exactly what you think it is) posted up a five minute video showing the demonstrations of various adult themed games running on VR headsets.
The first demonstration featured a plastic accessory attached to a 3D anime VR program where depending on how the plastic doll is positioned will determine how the character on screen will react. We see the guy wearing the VR headset -- and it looks awfully similar to the Oculus Rift DK2 -- grinding on the plastic doll in different positions. This appears to have some sort of effect on what's happening within the 3D game.
It's difficult to tell if the plastic doll had sensors on it or if there was something else that triggered the in-game character to change positions, but it did appear as if moving the plastic doll around worked like a gyroscopic accessory that affected the in-game character, moving her into various positions.
Now some people might be wondering why they would have a devkit version of the Oculus Rift -- if that really was the Oculus Rift DK2 -- and not the actual retail version. Well, Facebook repeatedly made it known that they did not want the consumer version of the Oculus Rift to support VR porn.
Some analysts believe that the VR porn industry could be huge and that it could help bring virtual reality HMDs into the mainstream. At the moment the GearVR is selling quite well because it's only $99 and works with most Android devices as a cheap solution for utilizing VR content. It's managed to move more than 1 million SKUs and 300,000 of them were sold in Europe alone, according to Tech Times. However, it lacks the fidelity, room positioning and scaling of more expensive HMDs like the Oculus Rift or the HTC Vive.
Now opposite of Facebook, Valve has not condemned nor prohibited the HTC Vive from being used with VR porn. While they don't actually allow porn on the Steam storefront, the device doesn't have built-in safeguards like the Rift to prevent certain third-party software applications from running. So technically, don't be surprised if a bustling marketplace of VR porn is made available and compatible with the HTC Vive in the near future.
For now, the whole VR market is still just trying to find its footing, with both HTC and Facebook attempting to fulfill all orders for the expensive, enthusiast devices. Many analyst predict that things won't really kick off for VR until the PlayStation VR headset arrives this October. Whether or not Sony will allow the PlayStation VR to support PCs and whether or not they'll allow for it to use VR porn is a whole other story. But for now, we at least know the VR porn industry is definitely gearing up to go big based on what was demonstrated in the video above... even if for most people it came across as creepy and weird.
Your Daily Blend of Entertainment News
Staff Writer at CinemaBlend.