Pro Skier Filming For Ubisoft Game Killed In Avalanche, Get The Details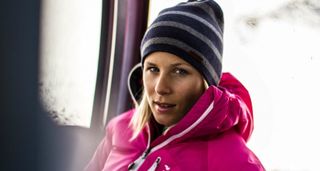 (Image credit: MatildaRapaport.com)
Tragedy struck this week for one extreme skier shooting footage for the game, Steep. Matilda Rapaport was out in the Andes Mountains of Chile when an avalanche occurred suddenly, killing Rapaport.
The information was released by Rapaport's sponsor, Red Bull, who told The Guardian,
Ubisoft, who was working with Rapaport on the game, Steep, released a statement after hearing the horrible news, saying,
Rapaport was a 30-year-old woman from Sweden and a professional extreme skier who was working just outside of the resort town Farellones. Apparently, The Guardian reports that the avalanche happened just after a huge snowstorm in the Andes Mountains. Rapaport was rushed to the hospital after being caught in the avalanche, but later passed away after complications from oxygen deprivation and brain damage.
If you don't already know, Steep is an open-world game from Ubisoft which takes players to the very depths of their worst fears in some of the world's most dangerous extreme sports, extreme skiing being one of those sports in the game. You can see the announcement trailer below.
It's no surprise that the avalanche happened moments after a huge snowstorm in the Andes, because the excess snowfall from the storm probably piled up on the mountain, pushing it to try and hold more snow than it could support. And once the max weight was reached from the storm's snowfall, it's crumbled under the pressure and let loose.
It's odd that people like Matilda Rapaport and Steve Irwin suffer from deaths that bloomed from the very thing they love most in life, Irwin being killed by one of the ocean creatures he's handled multiple times before, and Rapaport from the snow she skis on all the time. It's almost like that's how it was supposed to happen for them. Regardless, our thoughts are with the friends and family of Rapaport.
The risks and dangers involved in extreme sports like extreme skiing have recently been a topic of conversation in the extreme sports community, so there's no doubt that conversation will be reignited after Rapaport's tragic passing.
Your Daily Blend of Entertainment News