See The New Tony Hawk Game In Action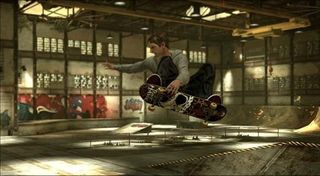 The newest Tony Hawk Pro Skater title has been receiving a lot of reactions online but not always for the best. The title recently received a new promo video to highlight some of the cast of characters who will appear in the upcoming title, including legends and newcomers alike.
Gamespot spotted the new trailer from Activision, which clocks in at around two minutes and you can check it out below.
The video covers some of the old school skaters as well as some newcomers, such as Tony Hawk's son Riley Hawk. It's crazy to think that the series has been going for so long that Tony's son is now old enough to be in the game.
Tony Hawk Pro Skater 5 features 10 pro skaters, each with their own style and special moves. Many of the younger kids featured in the game probably look unfamiliar to gamers who grew up playing the likes of Bucky Lasek, Rodney Mullen or the iconic Brazilian skateboarder Bob Burnquist in the older Tony Hawk Pro Skater games.
In fact, the lack of the legends being in the game spawned a lot of grumbling in the comment sections of the YouTube videos where gamers lamented not having the X-Games legends being in the title. A few people made the astute observation that Activision will likely include the aforementioned skaters in a DLC pack for Tony Hawk Pro Skater 5. I mean, this is Activision after all... would we really be surprised if they included the DLC? More than anything it would be shocking if they didn't.
Complaints about the graphics continue to persist in the gaming community, even after Robomodo made a last minute change and turned the game into a cel-shaded extreme sports title.
One of the bigger complaints about the game isn't just about the graphics but about the game's mobile-centric physics. Tony Hawk Pro Skater 5 has a very floaty feel to the gameplay and not everyone is digging the porting of a mobile title to home consoles where the core mechanics were tuned for iOS and Android users.
That's not to mention that a lot of gamers have become accustomed to the realism that EA introduced with the Skate series. And despite the fact that the game series has faded away, it's still highly regarded as a pinnacle of excellence in the extreme sports category. That's not to mention that there's also a huge sub-culture on YouTube spotlighting the Skate games' glitches.
Anyway, with Tony Hawk Pro Skater 5 the title has a huge uphill battle to contend with as disillusioned gamers are shelving their excitement for the title for now and waiting to see more before getting on the hype train. The title is due for release on the seventh and eighth-gen home consoles starting September 29th.
Your Daily Blend of Entertainment News
Staff Writer at CinemaBlend.