Final Fantasy 15 Is Already Helping Square Enix Make Money, Get The Details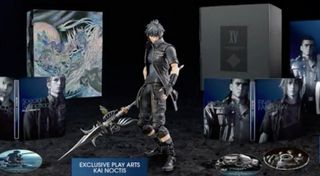 (Image credit: Square Enix)
Square Enix has posted their quarterly financials and the numbers are all looking good for the software publisher and content maker. A string of big AAA successes and consistent mid-tier releases have helped them a lot, along with the upcoming Final Fantasy XV thanks to its fast-selling pre-orders.
According to Gamespot, Square Enix has managed to generate $502 million in revenue in the last quarter, and their profit came out to $87 million. A lot of this was helped in part by the PC and digital downloads division, along with a strong set of console games.
They don't go into the details of how each game performed, but their core gaming division generated $368 million in revenue alone, and the operating income came up to $93 million. Some of that income was in due part to Dragon Quest Heroes II, which they state got off to a good start, but there's also a lot of sales interest generated from unreleased games like Final Fantasy XV.
According to Pure PlayStation, the pre-orders for Final Fantasy XV have consistently been selling out for the PlayStation 4. The deluxe and limited editions don't last long via on-line retailers, which shows some promise for the game's potential sales figures when it launches on September 30th.
What's more is that analyst ZhugeEX is estimating that Final Fantasy XV could generate at the least $260 million in profit for Square Enix, with $470 million in revenue within the first 12 months of its release. An optimistic figure puts the game at 10 million units being sold and a gross revenue of $730 million.
Square Enix is also counting on the game selling exceptionally well because it's been in development for a decade. They're hoping to move at least 10 million because they want to both recoup all of the millions they dumped into the game's development, and they want the series to post enough profit to keep the Final Fantasy brand alive.
So far, Square Enix has been putting a lot of time and a lot of effort into promoting the game, including making a series of anime shorts detailing the main character relationships in Final Fantasy XV, along with making a completely CG animated film called Kingsglaive: Final Fantasy XV, which stars Hollywood actors Sean Bean, Lena Headey and Aaron Paul.
The hype train for the game is almost off the charts.
Nevertheless, even if we're going by the most modest of estimates by ZhugeEx, the game could still turn a sizable profit for Square Enix.
Following that, another big release for Square that could help keep the revenue flowing in is the highly anticipated PS4 release of Rise of the Tomb Raider. The game previously released last year for the Xbox One and earlier this year for PC. A one-two combo of Final Fantasy XV and Rise of the Tomb Raider could do wonders for Square Enix's bottom line.
Additionally, a large part of the appeal for the upcoming Final Fantasy XV is in the game's graphics and new real-time combat. We'll see how well gamers adapt to the changes come September 30th and whether or not it'll actually be as big as Square hopes on the global market.
Your Daily Blend of Entertainment News
Staff Writer at CinemaBlend.