What WWE 2K16 Is Doing About Hulk Hogan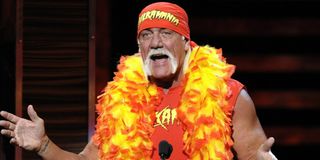 It looks like Hulkamania isn't running wild on anyone anymore, brother. Following the recent release of some transcripts and interviews where Hulk Hogan uses racial slurs and other language, WWE has been systematically erasing Hogan from wrestling entirely.
This even extends to video games (via Uproxx), with 2K Games having altered WWE 2K16 to removed Hulk Hogan's likeness, character model, and other materials in the series that reference him in any way. Seem rather Orwellian? It's doubleplusungood, if you ask me, but there's no telling what corporations are going to do anymore.
And it's likely a lot more complicated than just a simple decision. Since WWE has terminated Hulk Hogan's contract, as Uproxx points out, it's likely that 2K simply can't use Hogan's likeness anymore, and thus must have to remove references, models, and more. This causes a very frustrating dilemma for players, who will likely be seeing all traces of Hulk Hogan simply being taken out of their games and content gated from them, even if there are hundreds of characters to choose from.
If that all sounds rather extreme, it is. Consider the fact that, despite the fact that Hulk Hogan is one of the organization's most recognizable faces, that 2K even promoted a special Hulkamania edition of the game that retailed for $100. In fact, it's still up for sale on Amazon, and comes with several Hulkster-branded items. Fans who already paid for special Hulk Hogan-branded DLC items aren't even able to download them now. Looks like this has blown up into a colossally damaging situation. Not even Dennis Rodman's going to be able to get the Hulkster out of this one.
It's an awkward and frustrating situation, especially for fans who have already put down the cold, hard cash to play as their favorite wrestler and are now seeing items essentially taken away from them, as well as a piece of what many consider to be WWE history conveniently edited out because of a transgression that seems blown out of proportion given what has gone on in the organization and what continues to be taking place.
WWE 2K16 is still chugging along, however, having announced special DLC with Arnold Schwarzenegger reprising his famous role as the T-800 from The Terminator and Terminator 2: Judgment Day films. It's a bizarre choice, and couldn't possibly replace the Hulkster as a viable replacement, but it's an interesting attempt at giving fans a little more after turning around and taking something away from them as well.
Your Daily Blend of Entertainment News