The Best Part About Joining The Final Fantasy Franchise, According To Aaron Paul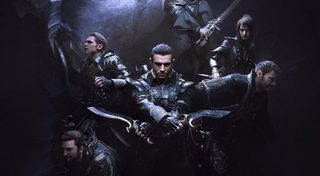 (Image credit: Square Enix)
The upcoming Kingsglaive: Final Fantasy XV CG movie that works as a standalone prelude to the upcoming Final Fantasy XV, stars Breaking Bad's Aaron Paul. The actor explained that the best part about joining the Final Fantasy franchise was how badass the mo-cap actor made him look.
In an interview with Gamespot, Paul explained that he's not in very good shape, but thanks to his motion capture counterpart, he sort of looks like he is, saying...
While Aaron Paul voices the lead character of Nyx Ulric -- one of the royal protectors of the monarchy within the Kingsglaive universe -- it's actually actor Neil Newbon who did the motion capture and provided the look for Nyx.
Paul is sharing the virtual screen space with Game of Thrones' Lena Headey, who voices Luna in the movie. And the king is voiced by none other than Sean Bean, another Game of Thrones alum. I'm curious if Bean will live up until the end of the movie because his fate in Final Fantasy XV seems to be uncertain?
As for Aaron Paul taking on the role of Nyx Ulric, he was asked in the interview if he had ever had any experience at all with the Final Fantasy property and he explained that he did not. In fact, he had never seen any of the previous movies nor had he played any of the previous games.
He was basically offered a role in the movie through an inbox invite and was given an opportunity to check out the script. He says it was around 200 pages long and he was originally only going to read 15 or so pages but ended up finishing the whole script.
In the interview with Gamespot, he comes across as ebullient about having taken on the role and indulged himself into the alter ego of Nyx, and he says that he's going to check out more Final Fantasy stuff but I get the feeling he may be paying lip-service to the promotion of the film.
Even though Aaron Paul has never played a Final Fantasy game in his life, he says that after he finally gets a chance to see Kingsglaive he may dive in and play the very first one. I'm not sure what he may be expecting but the original Final Fantasy hasn't aged all that well and... well... he may be in for a shock.
Anyway, the upcoming Kingsglaive: Final Fantasy XV will release ahead of the recently delayed Final Fantasy XV. The CG movie is hitting some select theaters in the USA starting today and is also available for purchase on DVD, Blu-ray and digital distribution. The upcoming game that the movie ties into will be available on November 29th later this year for Xbox One and PS4.
Your Daily Blend of Entertainment News
Staff Writer at CinemaBlend.