Nintendo Just Sent Some Love To A Mourning Fan, Get The Details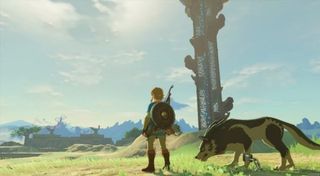 (Image credit: Nintendo)
Nintendo holds a special place in the hearts of many gamers the world around. In one particular case a gamer reached out to Nintendo to let them know about a great loss that occurred in his life. Nintendo responded by sending that fan some much needed love.
Game Informer is reporting that Nintendo sent out a care package to a loyal gamer after they received a heartfelt letter from a certain Corey Austen. He's a huge fan of The Legend of Zelda. Corey's brother, Matt, was also a huge fan of The Legend of Zelda. The two had plans to text each other throughout the June 16th Nintendo Direct to talk about the highly anticipated The Legend of Zelda: Breath of the Wild.
They grew up on everything Zelda and had shared a great passion for the series. The two had played through both the older games and the newer games. Corey preferred the older games in the series while Matt really had taken a strong liking to Legend of Zelda: Twilight Princess. The wolf transformation and slightly darker story was something that really attracted Matt.
However, Matt had suffered from fits of epilepsy since 6th grade, and on May 31st, 2016 -- before Matt and Corey could text message each other during Nintendo's E3 presentation -- Matt passed away at the age of 23.
Corey had to watch the E3 presentation alone, but did so in good spirits... until it was revealed that The Legend of Zelda: Breath of the Wild would feature special Amiibo support for The Legend of Zelda: Twilight Princess and Link's wolf transformation.
Corey broke down from the news due to being reminded of his brother's love of Twilight Princess...explaining:
The news compelled Corey to write to Nintendo to give them thanks. The letter is posted in full over on Zelda Informer where Corey details how growing up with The Legend of Zelda and sharing that bond with his brother -- both of whom had their rooms decked out in Zelda gear -- had brought a lot of happiness to them in their lives.
The final conversation they had before Matt passed was about how much they were looking forward to Nintendo's E3 presentation and sharing those moments together in what they were looking forward to from the upcoming game. The loss of his brother and the reveal of the Wolf Link Amiibo was bittersweet for Corey because it would always remind him of Matt and those moments leading up to his passing.
The letter touched a core in Nintendo, prompting them to respond with the following...
Nintendo sent Corey a care package, which he received during a live-stream that he was doing for charity. The box contained lots of swag, including several shirts featuring The Legend of Zelda through the years, including one for the upcoming Breath of the Wild. A backpack, hat, watch, poster and a Breath of the Wild medallion were also included in the package along with a few other goodies that can be viewed over in an imgur album.
Nintendo's gesture has been well received among the denizens of the internet and was a real class act from the company toward a gamer who was in mourning.
Your Daily Blend of Entertainment News
Staff Writer at CinemaBlend.
Your Daily Blend of Entertainment News
Thank you for signing up to CinemaBlend. You will receive a verification email shortly.
There was a problem. Please refresh the page and try again.