How You Can Tell Hideo Kojima Wasn't Involved In Metal Gear: Survive, According To Kojima Productions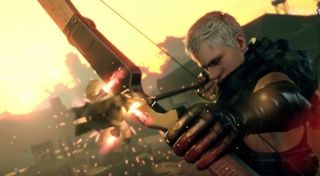 (Image credit: Konami)
We managed to get our first look at the upcoming Metal Gear: Survive from Konami at this year's Tokyo Game Show. It's also the first post-Kojima Metal Gear game from the publisher. According to Hideo himself, there's a way you can tell he had nothing to do with the development of the title.
According to IGN, Hideo Kojima and Yoji Shinkawa were in attendance at the Tokyo Game Show, and they were asked about their possible involvement in Konami's Metal Gear: Survive. Shinkawa jokingly stated...
Normally I would be right there with him, pointing and wagging a finger at Konami. However, we still haven't seen much of Metal Gear: Survive and from the little we have seen, we do know that crafting is a strong element in the game and that players who gather and collect enough materials can craft bigger and better equipment. It may not be outside the realm of possibility that some high-level equipment such as mechs might actually make their way into the game at some point, similar to Metal Gear Solid V: The Phantom Pain.
For now, we've only seen small snippets of the gameplay and it wasn't enough to judge that there are no mechs involve.
Kojima, however, had a different response, citing something that has been more evident in the promotion of Metal Gear: Survive, saying...
Now this is something that I think you could judge Metal Gear: Survive on from a critical standpoint since nothing they've showcased of the game seems to relate at all to the espionage or political nature of previous Metal Gear Solid games.
The general gist of Konami's non-Kojima Metal Gear title centers around a group of no-name Mother Base soldiers having been sucked up into a wormhole and transported into an alternate dimension where floods of zombies roam the wasteland. Players must gather supplies, work with other players, build equipment and eventually find a way back to their world through a wormhole. It really is exactly what the name says it is: it's about survival.
Players get to pick a soldier, customize their look and equipment, and hop into the game. There is still sneaking and stealth involved, but a large portion of the gameplay centers around World War Z-style zombie attacks. According to Konami, a majority of the game centers around completing missions by either gathering supplies, acquiring and building equipment or defending specific locations. A story-driven, multi-national political thriller this game is not.
In Shinkawa's case, Konami might still add mechs into the fold somehow (and I wouldn't doubt that they would). In Kojima's case, there doesn't appear to be any political motivations surrounding the game at all, especially since players are in control of non-canon characters. If you're interested in what Kojima is currently working on, look no further than the much talked about Death Stranding.
Your Daily Blend of Entertainment News
Staff Writer at CinemaBlend.
Your Daily Blend of Entertainment News
Thank you for signing up to CinemaBlend. You will receive a verification email shortly.
There was a problem. Please refresh the page and try again.