What Minecraft Freebies You Can Get For Its Xbox Birthday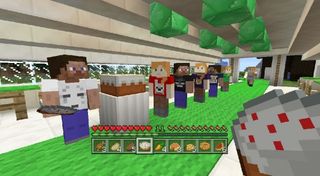 Still playing Minecraft on the Xbox consoles? Well, you're in for a treat. Mojang is giving away some free skin packs in celebration of its fourth annual birthday on the Xbox consoles. Not only is a new skin pack available but the older skin packs are available for free as well.
Game Informer is reporting that for a limited time gamers on the Xbox One or Xbox 360 will be able to pick up the free skin packs from now up until May 16th. Over on the Xbox store they list the packs that are currently available for the game.
In addition to the four birthday packs, there are also trial packs that are available for free as well, featuring skins from things like the Star Wars prequels, the Halloween mash-up pack and even a skin pack for the Minecraft: Story Mode from Telltale Games.
Unfortunately, they don't actually detail what the skins are exactly that are included in the pack, they only note that the birthday packs contain some new party skins for gamers to use for the celebration. Each of the skin packs are terribly small, clocking in at just under 200kb, so you won't have to scrounge through your hard drive trying to find things to remove in order to ensure that you have room to install the packs.
Minecraft has been a huge success for Mojang and it's not surprising that Microsoft would want to take out a little time to celebrate how big the game has become. Mojang and the Minecraft property was acquired by Microsoft back in 2014 to the tune of $2.5 billion.
Microsoft now makes money on the property even with it being on Sony and Nintendo properties. They've been consistently expanding the series beyond just being a game, even opting to bring Minecraft to the classroom with an education edition. How widely adopted the game will be in classrooms remain to be seen, but the company obviously sees a future where Minecraft is used as a property in the productivity sector just as much as it's used in the private consumer sector.
The success of Minecraft has been somewhat unprecedented given that it's not like a traditional game where you have a main character and you go around trying to stop the bad guy. Instead you just build things... and sometimes try to survive things. The game's open-ended structure and the allowance of being able to build anything you want, wherever you want, has made it a smash hit amongst kids the world around.
Microsoft briefly teased what the future of Minecraft could be with the HoloLens, but beyond a demonstration of playing and building in augmented reality they haven't really made any further advancements on that idea. HoloLens is also still in the development stages, so it's likely that it won't hit the consumer market until 2017 or 2018. In the meantime, fans of Minecraft can enjoy the free birthday skins up until May 16th. The skins are available for both Xbox One and Xbox 360 gamers.
Your Daily Blend of Entertainment News
Staff Writer at CinemaBlend.
Your Daily Blend of Entertainment News
Thank you for signing up to CinemaBlend. You will receive a verification email shortly.
There was a problem. Please refresh the page and try again.