Minecraft Is Getting A New Game Mode, Get The Details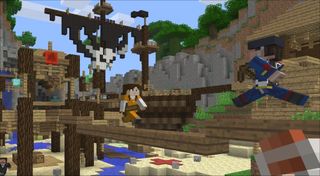 You know what a lot of people have apparently been secretly desiring that no one really thought to ask for? An arena mini-game battle mode in Minecraft. Microsoft is really thinking forward with the property and will introduce the new Battle mini-game this June for home consoles and portable devices.
Eurogamer is reporting that Microsoft and Mojang will be rolling out the Battle mode for Minecraft as the first of many mini-games that are apparently in the pipeline for the emergent adventure game.
The Battle mode will see up to eight players battling in small PvP arenas where randomized chests will spawn within the arena and offer players various weapons and battle equipment in which to down their foes. Console gamers will also be able to compete in local split-screen matches for up to four players. The matches will be free-for-all so you don't have to worry about teams, unless you actually plan on working together just for the heck of it.
After a player dies they won't respawn, though. The Battle mode uses elimination style rules, so once a player dies they'll get to fly around the arena as a bat to spectate the remainder of the match until the next round begins.
The battle mode won't just drop and be left alone. Microsoft plans to supplement the free game mode on home consoles with additional content post-release. Over on the official Xbox website (opens in new tab) they mention that they will have paid map packs to extend the gameplay beyond the initial three maps that will be included in the free mode.
Every additional map pack that will be available for Minecraft's Battle mode will be available for $2.99.
The map packs will mix up the gameplay so that players will have to employ different kinds of strategies to overcome their foes.
This particular Battle mode was designed so that players wouldn't have to fumble around with trying to find specific games or deal with the micromanagement of multiplayer deathmatching that can sometimes slow down the process of getting into a game and playing it. The Battle mode in Minecraft is designed to be fast and easy to get into, making it a prime target for gamers who don't have the patience to wait on setting up lobbies and dealing with the multiplayer minutiae that bogs down some games.
Microsoft also plans on leveraging the Battle mini-game with other mini-games at a later date. They will be rolling out new mini-games where players can easily jump into competitions with custom made presets. It reminds me a little bit of Minecraft taking on a sort of Mario Party vibe.
I'm curious what the other mini-games will be like following the Battle feature that will go live in June. Microsoft obviously wants to further monetize Minecraft with these micro-features, so we'll see how well that all turns out for the company. They've also been experimenting with the game being used in the classroom and with the HoloLens device. In the interim, you can start battling friends in deathmatch arenas on the Xbox One, Xbox 360, PS3, PS4, PS Vita and Wii U this summer.
Your Daily Blend of Entertainment News
Staff Writer at CinemaBlend.
Your Daily Blend of Entertainment News
Thank you for signing up to CinemaBlend. You will receive a verification email shortly.
There was a problem. Please refresh the page and try again.